Four days in South Tyrol. Four days full of impressions, inspiration and emotions. Four days with wonderful women and their stories. Four days full of MICE ideas and inspiration! South Tyrol showed our MICE Ladies group probably its most beautiful side from 23rd to 26th June 2022 and we were able to see, taste, smell, hear and above all: feel this dreamlike destination with all our senses.

South Tyrol was once again the fantastic setting for a MICE Ladies Trip – which was so much more than "just" a wonderful trip. Once again we networked with strong and fascinating women from South Tyrol, laughed and had profound conversations, inspired and touched each other and got to know this versatile MICE destination with its almost endless possibilities and ideas for unforgettable MICE experiences very deeply.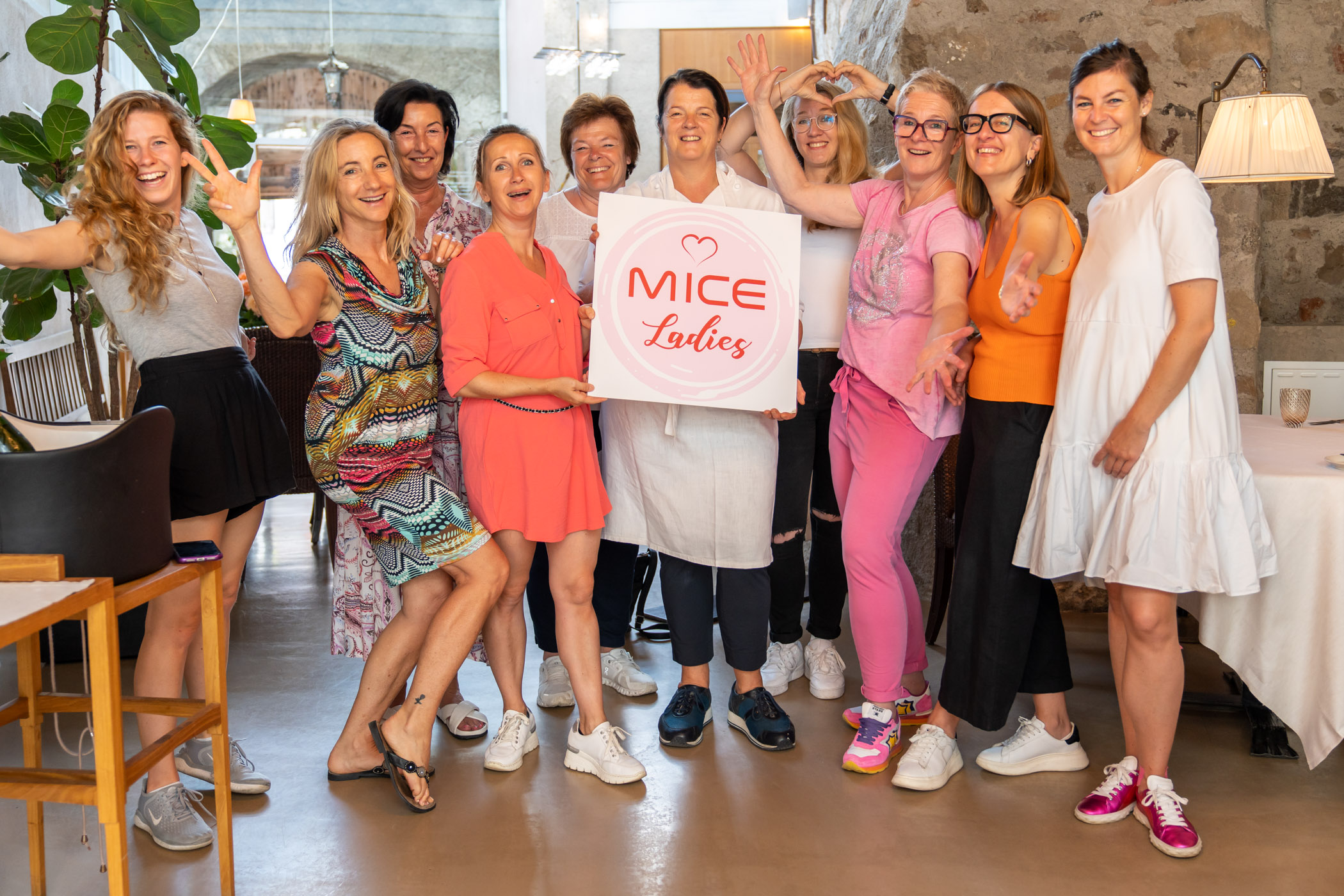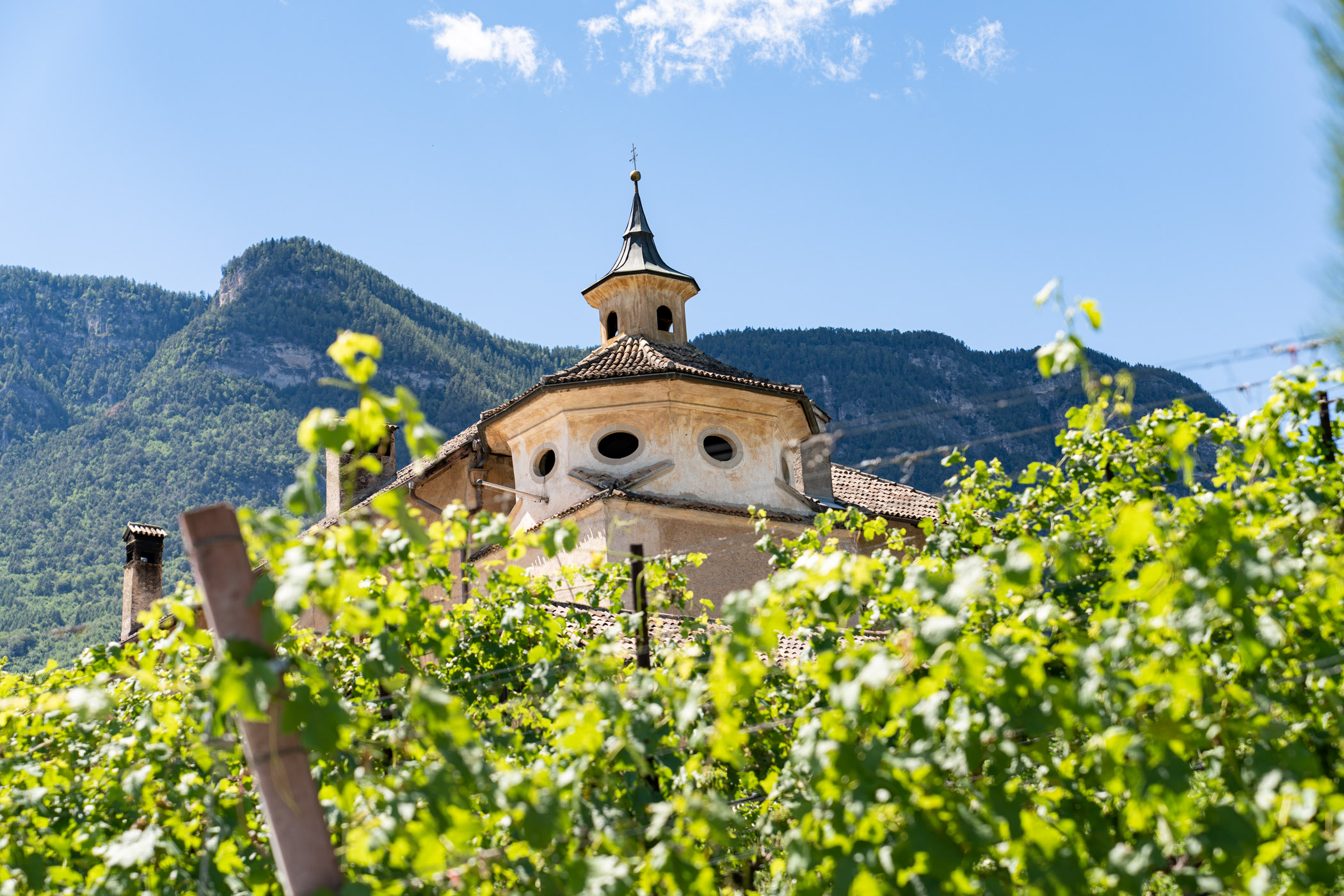 The perfect basis for "deep talk", for the dialogue between our planners and the representatives of the destination South Tyrol as well as inspiring conversations with other entrepreneurs and MICE providers from the region. On this trip, we also wanted to illuminate the current changes, challenges and transformations and discuss how events can make a positive contribution to these developments. We talked intensively about the changes in our business event industry, about challenges and new "business needs", about "new work" and above all about new, sustainable and contemporary MICE formats that have a positive effect and thus support change.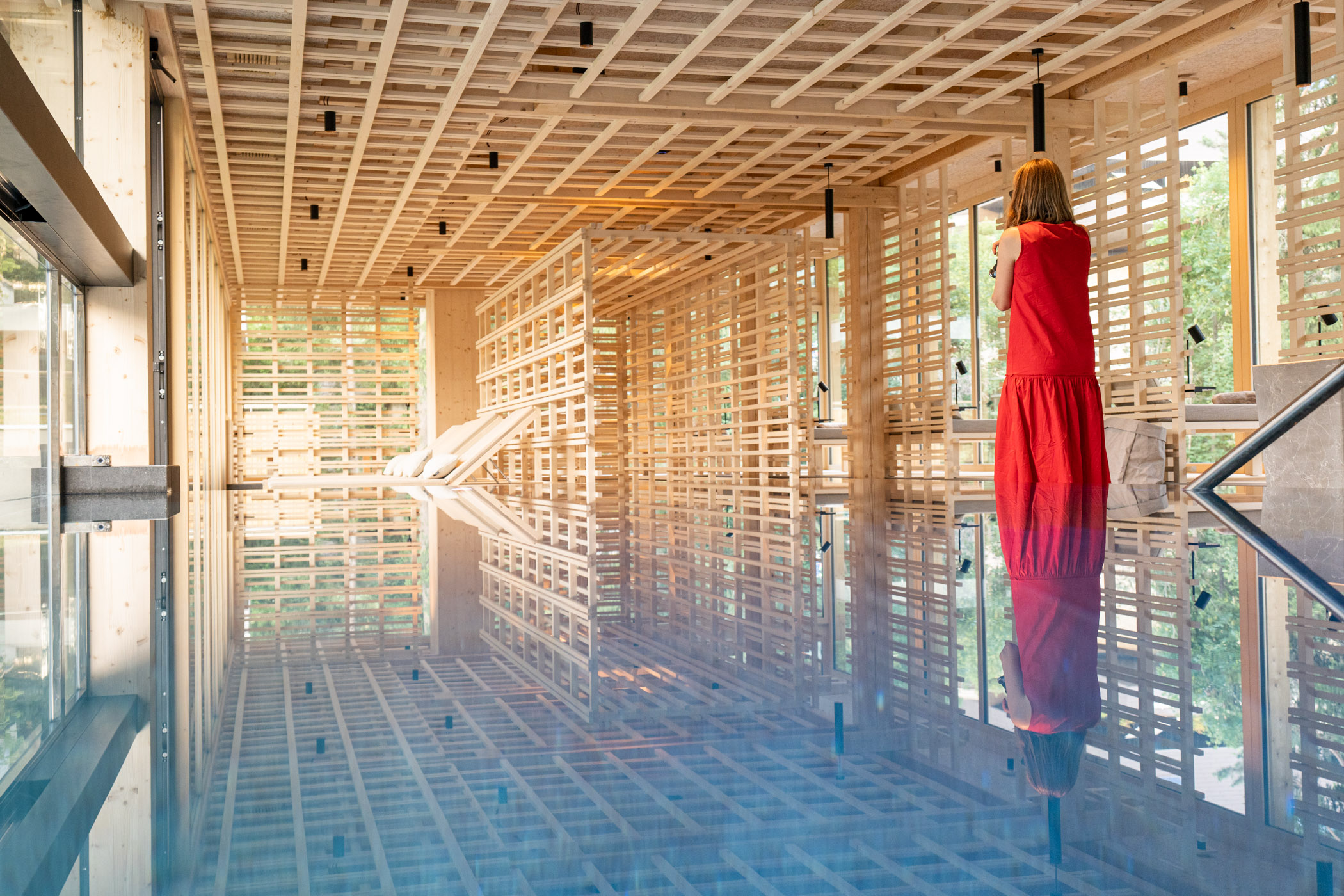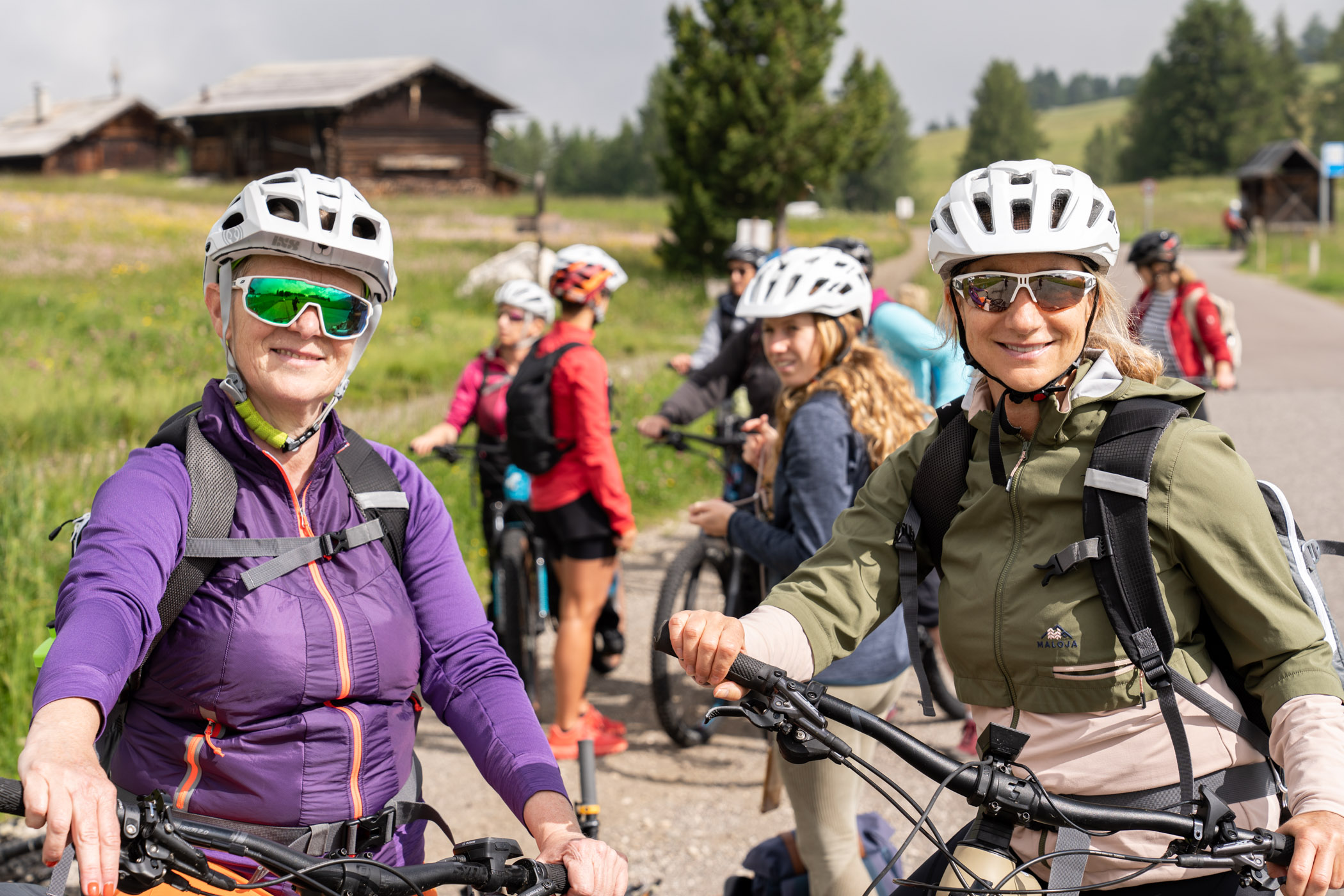 A big question we asked ourselves is:
"How can we design events in the future that on the one hand serve people, promote personal development and at the same time provide answers to the major current challenges from a company perspective – employee retention, identity creation, addressing new employees, employer branding?"
When designing this MICE Ladies Trip, we therefore made it our goal to provide practical examples and also to play a somewhat "pioneer" role for these new, deeper encounters within the framework of business events. Because this is exactly what South Tyrol is ideally suited for as a holistic incentive and meeting destination: the imposing natural backdrop that is unique in the world, the many inspiring personalities, the cuisine, the diversity of cultures, traditions paired with high tech and globality offer the perfect setting for deeper encounters and lasting experiences.
Combined with the fascinating hotel industry in South Tyrol, it is probably the best stage imaginable for a special kind of team building, for unforgettable group experiences and next-level incentives.
This time it was: The breathtaking and newly opened Sensoria Dolomites in Seis, which we were able to get to know through a very special hotel tour with the hostess and her personal story. The Aeon in Soprabolzano, a boutique hotel for the soul with a very special exterior and interior concept that encourages a change of perspective with an almost endless view over the plateau. The Hotel Schwarzschmied iin Lana, which makes you swarm with its blooming and fragrant lavender garden and magnificent pool. The impressive Icaro high up on the Alpe di Siusi, which with its wonderfully eclectic style always provides exciting impressions. And the traditional yet stylish Castel Fragsburg, Luxury Hideaway & Soul Retreat with its own associated castle – an experience in a class of its own that is almost at a loss for words.
True to the MICE Ladies concept of making our host destinations come alive with impressive women from the region and their offers that can be integrated into business events, our participants got to know a large number of fascinating female personalities – our initiators – in these four days. Here we go, in the order of our program
Bozen: Sheroe 1
Antje Pfahl-Signoretto, Head of Marketing at La Munt, the mountain sports brand by women for women.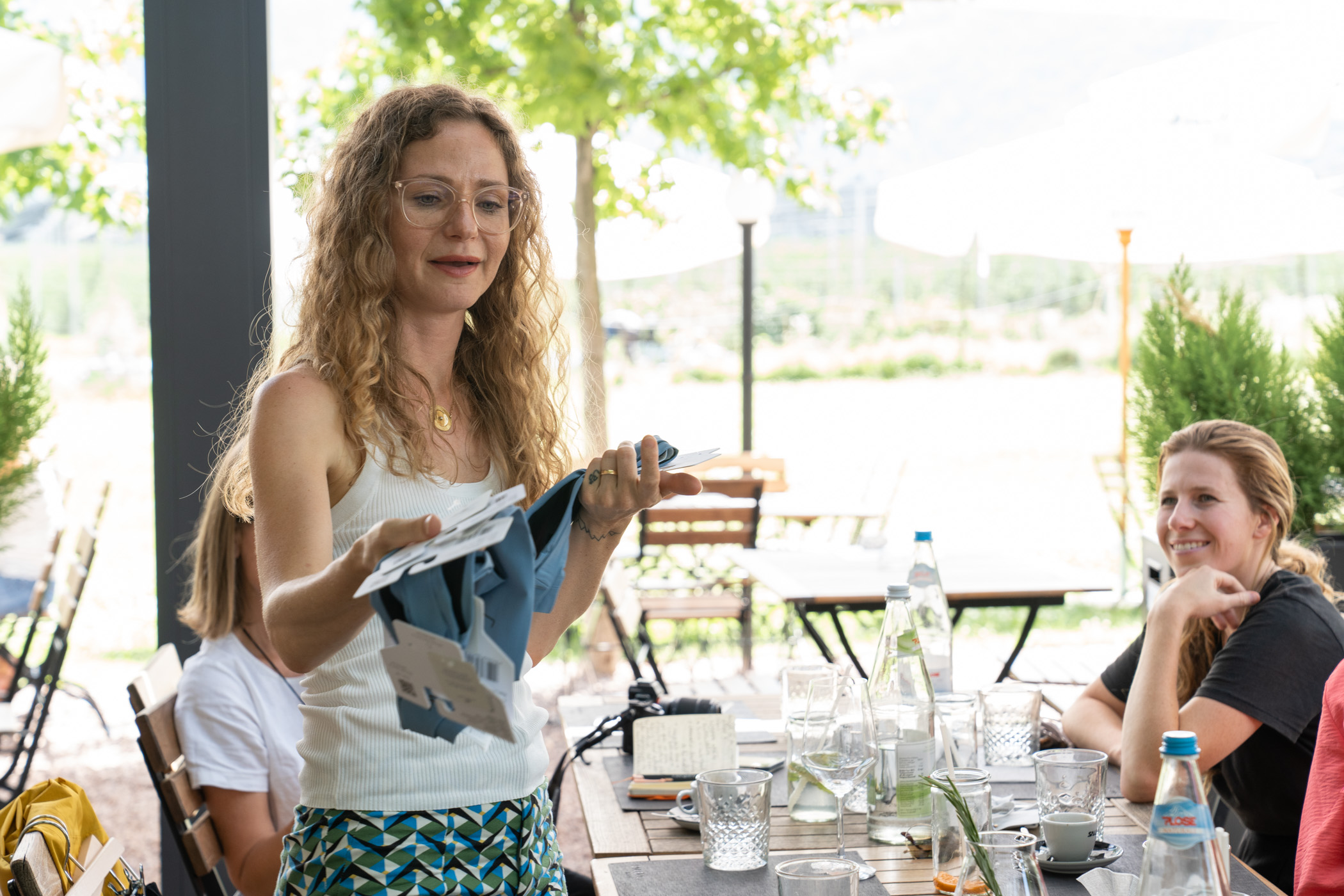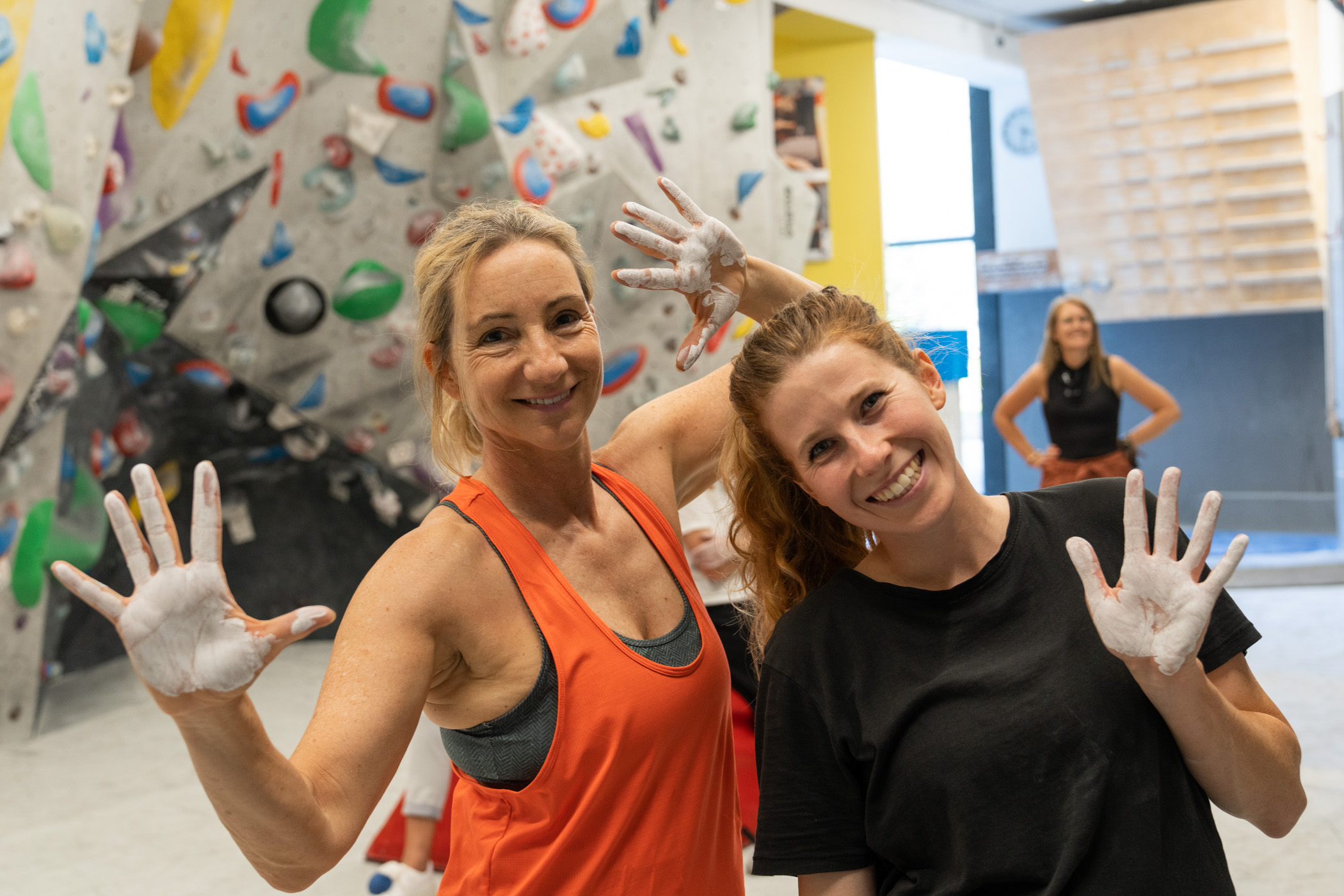 Our tour started in Bolzano in the imposing Salewa/Oberalp building, where we met Antje. With her, we took a look beyond our industry and gained interesting insights into the La Munt sustainability strategy, including the certification of production processes and the sustainable consideration of the entire value chain. We discussed that the apparel and our industry faces the exact same challenges. Exciting insight: The female team spirit at La Munt shows many similarities with our MICE Ladies Travel Tribe approach: Learning from and with each other, sharing experiences in nature and creating deep connections results in a unique culture of meaning, trust and connection. Inspiring!
Seiser Alm: Sheroe 2
Claudia Rier, known as "Claudia from the Dolomites", destination and business
consultant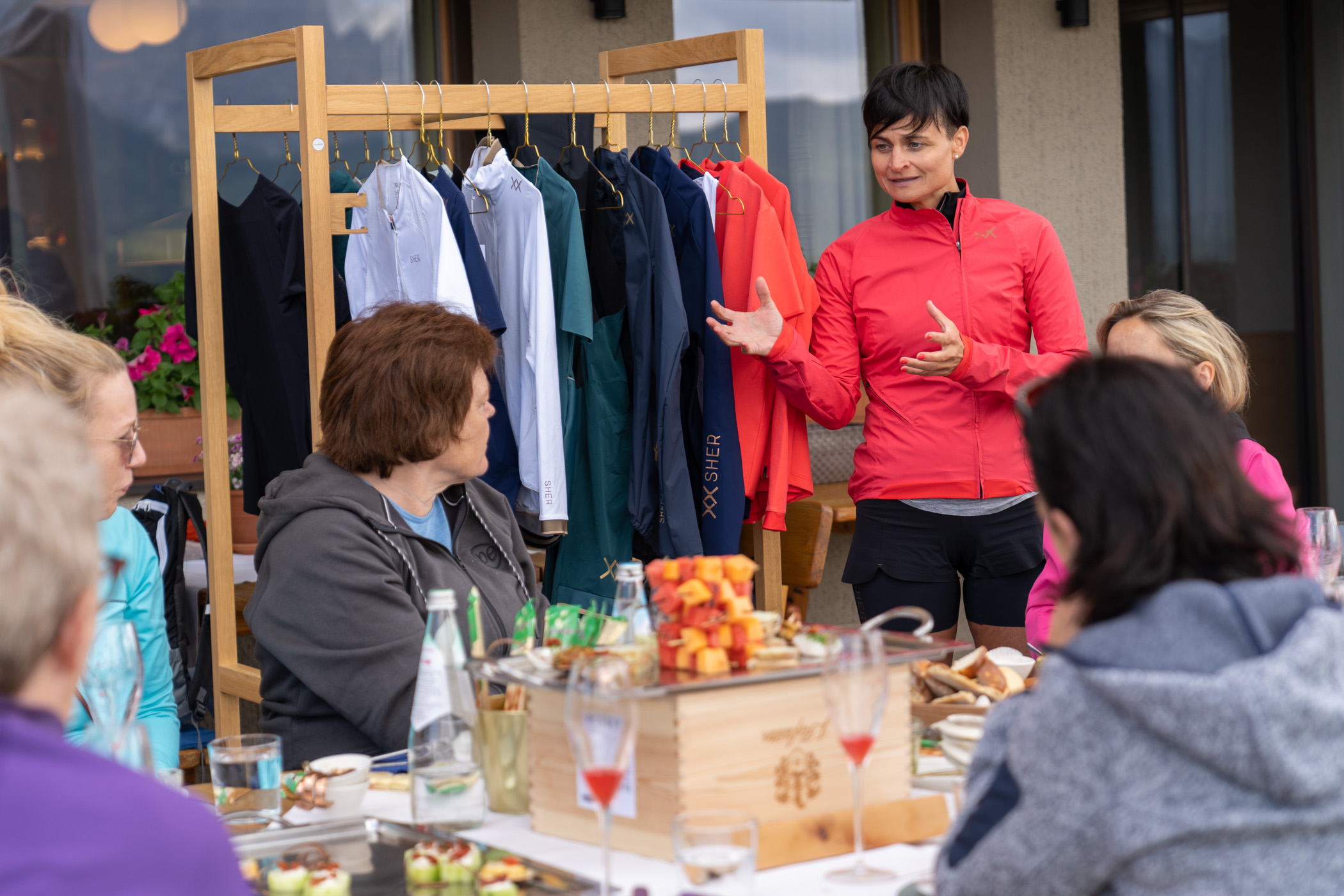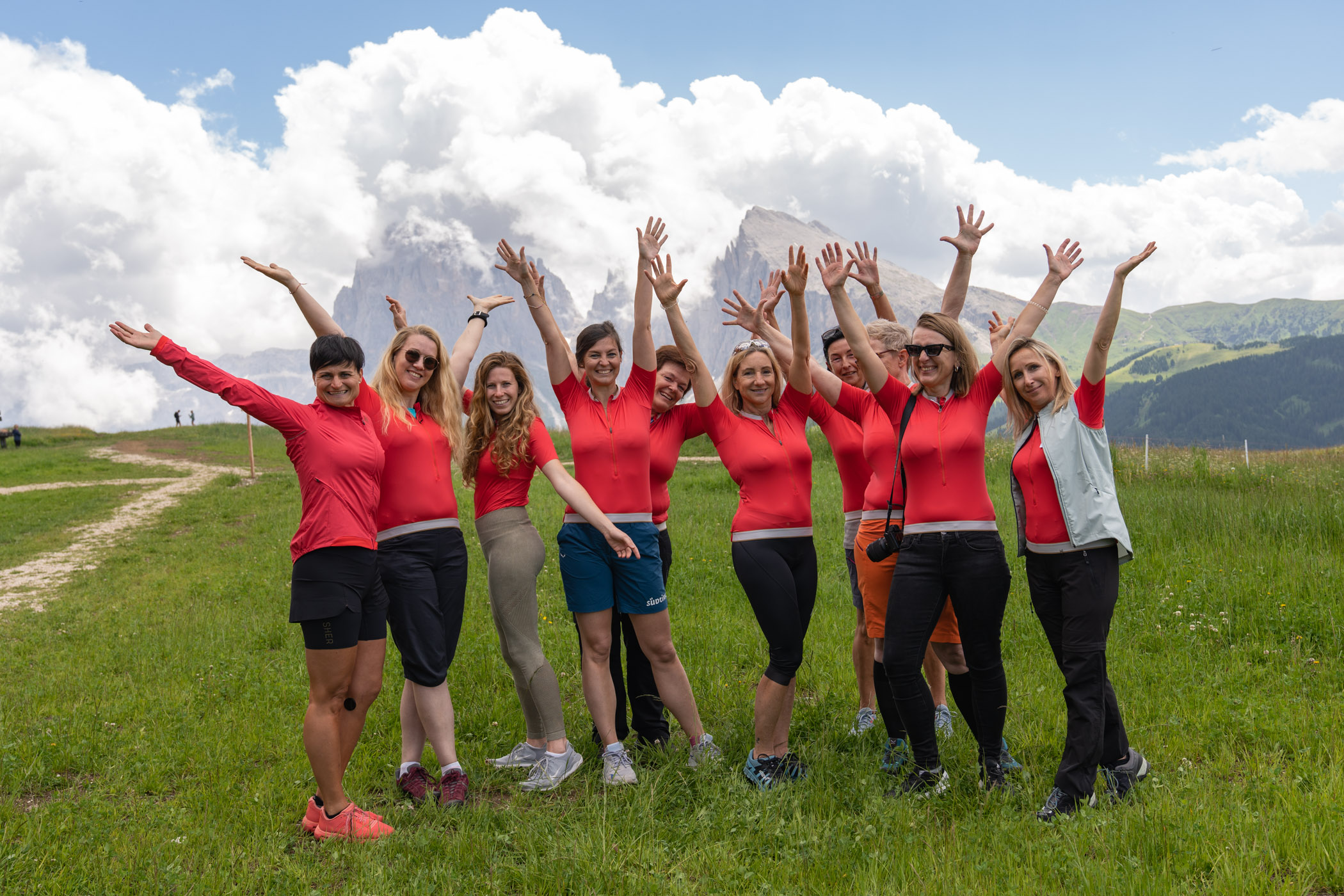 Known as "Claudia from the Dolomites", destination and business consultant as well as ambassador for SHER, bike sports brand by women for women. With the South Tyrolean power woman we went by e-bike and in our new pink SHER bike shirts over gentle climbs and rapid descents on a pleasure tour on the world-famous Alpe di Siusi, a UNESCO World Heritage Site and gateway to the Dolomites.
This tour is ideal for participants of all fitness levels and ages and can therefore be easily integrated into any program. The tour culminated in what was probably the most delicious snack in the world at the Hotel Icaro with a breathtaking mountain backdrop. With Claudia, South Tyrol can be experienced and tasted in a charming, energetic and sporty way – because, in addition to her sporty variety, she is also a sommelier!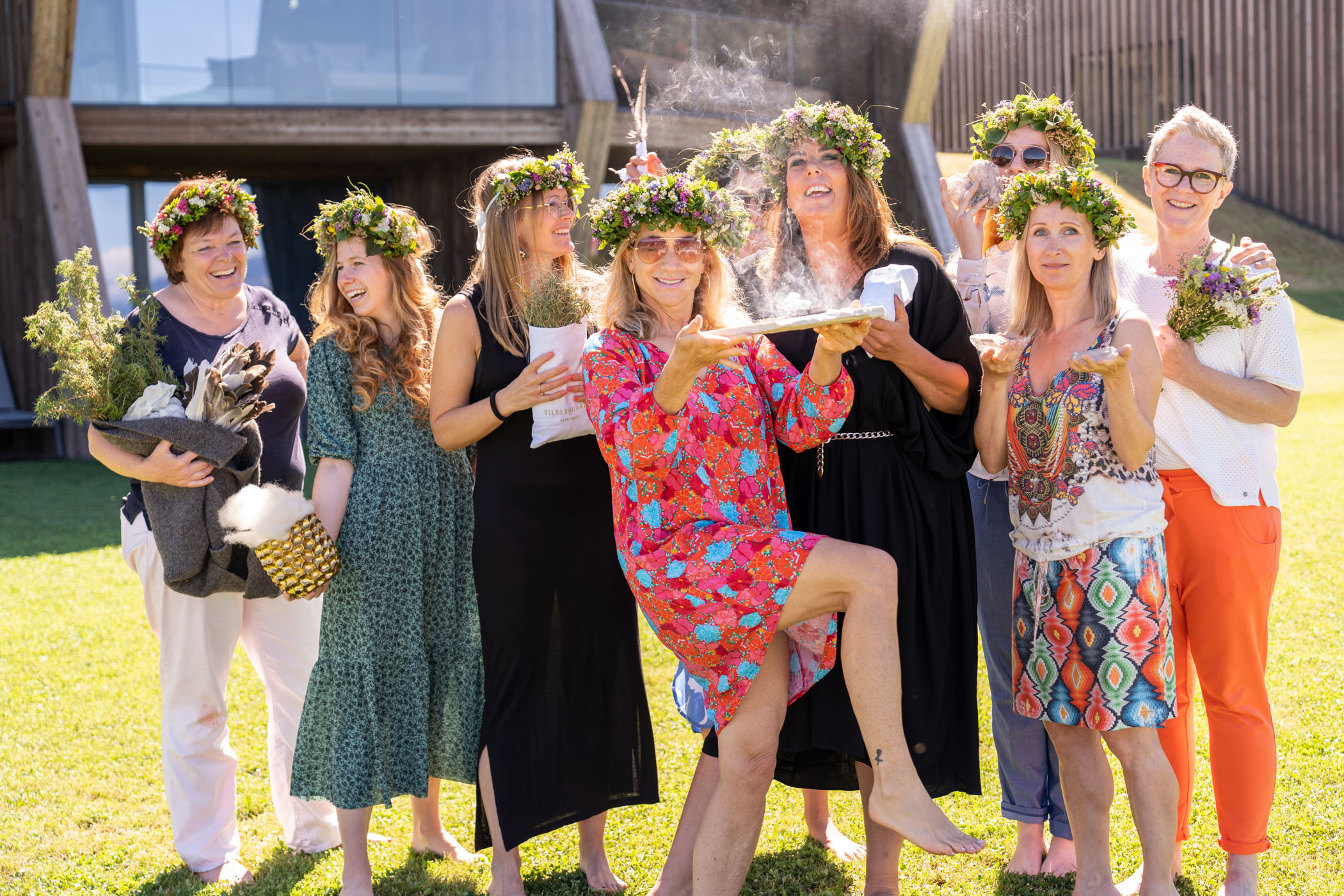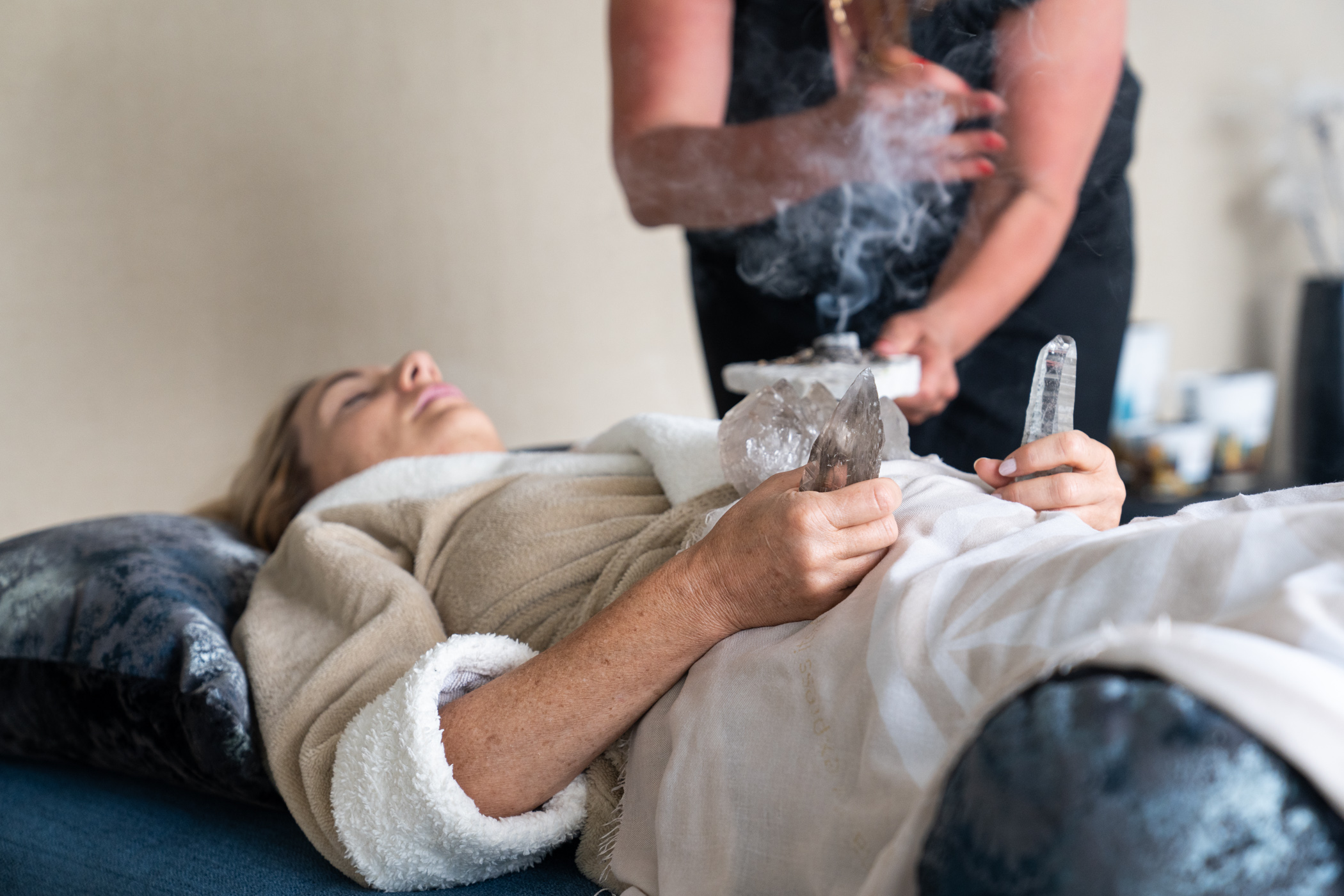 With Kornelia, our women have experienced a journey to themselves, to their inner core, and have been able to embark on the journey to their own transformation – beyond existing beliefs and blockages. The perfect setting for this was the wellness area with infinity pool at the Aeon in Soprabolzano.
How do you find words for this unique experience? The best way is to ask Kornelia herself – and that's what we did: "As a South Tyrolean retreat and ritual expert, I am convinced that event planners and companies are required to break new ground that go away from the superficial to the profound. My expertise is based on the experience of more than 5,000 silver quartzite rituals – very efficient transformation rituals developed by me. The secret of my success lies in understanding people within a few minutes and finding out the most personal point that needs to be changed in order to regain lightness and joie de vivre. I draw the knowledge and expertise I need from the traditional cultural and historical treasures of my homeland."
Kornelia's rituals can be designed in the form of individual treatments or as an enriching framework for existing events. In addition, Kornelia offers multi-day transformation retreats for body and soul, including in-depth body ceremonies with South Tyrolean mineral and herbal powers, in which she cooperates with transformation coaches.
Kaltern am See: Sheroe 4
Countess Sophie Goess-Enzenberg, hostess and owner, Manincor winery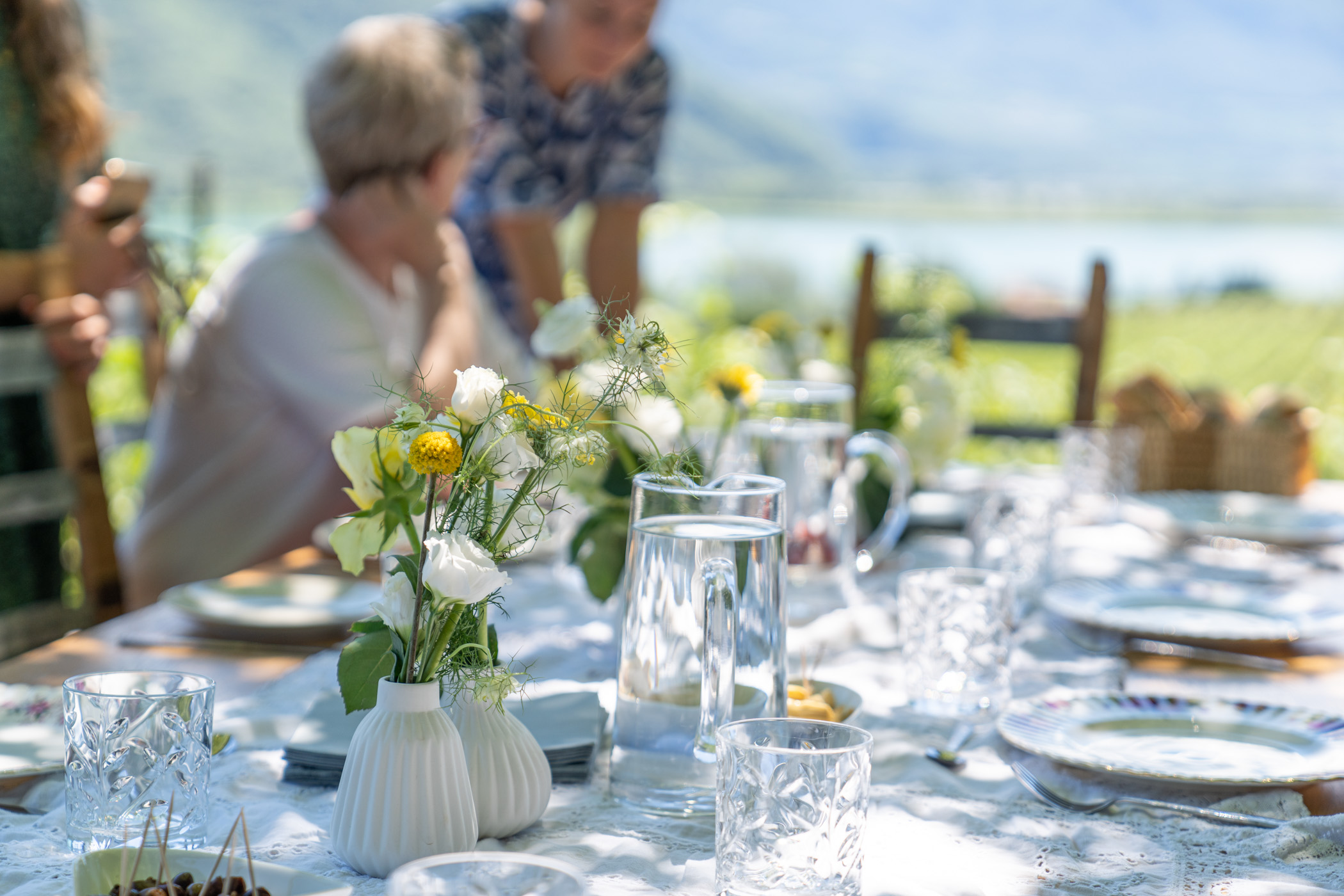 Countess Sophie herself was our hostess during our visit to the Manincor winery in Caldaro Weingut Manincor
in the world-famous wine-growing region on Lake Caldaro. With her husband, Count Michael Goëss-Enzenberg, she developed the impressive winery, which has been producing purely biodynamically since 2006, into the internationally renowned Manincor brand. The gentle handling of living resources is the guiding principle of the count's family in personal life as well as in the winery. A perfect setting to get closer to these wonderful wines and the concept of biodynamics in viticulture as part of an exclusive winery tour and exclusive tasting.
Excerpts from the website of the Manincor winery also show how important this holistic approach is: "Viticulture and agriculture have a long tradition in our family. We have made it our task to treat this tradition and the great gift of nature with care. With great respect for people, animals and plants, we work holistically, sustainably and future-oriented. Our major goal is to restore and maintain natural cycles. Biodynamic farming only works if it is supported by an inner attitude." For the participants of our trip, the visit to the winery was both insightful and impressive. Parallels to our industry became clear, in which sustainability as a major challenge only works if it is based on true values as a basic attitude.
Caldaro am See and "all of South Tyrol": Sheroe 5
Alia Radetti, Owner Dream Beyond DMC
The grand finale of our visit to Manincor was the magnificent and lovingly set table in the middle of the vineyards, organized by Alia Radetti, owner of DMC DMC Dream Beyond. With a dream view over Lake Caldaro, we had a fine summer lunch with accompanying wines together with Alia and Countess Sophie. Once again we were speechless at the sight that presented itself to us: the finest historical porcelain, an equally beautiful tablecloth and matching decorations formed a perfect conclusion to our experience.
Alia, another powerful woman from South Tyrol, makes all of this and much more possible with her Destination Management Company in both summer and winter. She is a real bundle of positive energy and radiates pure joie de vivre! Not only is she Italian champion in freeride skiing, she also has the feeling for the perfect atmosphere and the many details that make a MICE experience so unforgettable. She knows every secret tip and conjures up extraordinary experiences for groups and incentives of all sizes in all corners of South Tyrol through all seasons. From midnight snowshoe hikes with campfire romance in winter to culinary highlights in the vineyards in summer, you simply have to experience her creativity.
Castel Fragsburg, magic forest: Sheroe 6
Renate, a modern alchemist and naturopath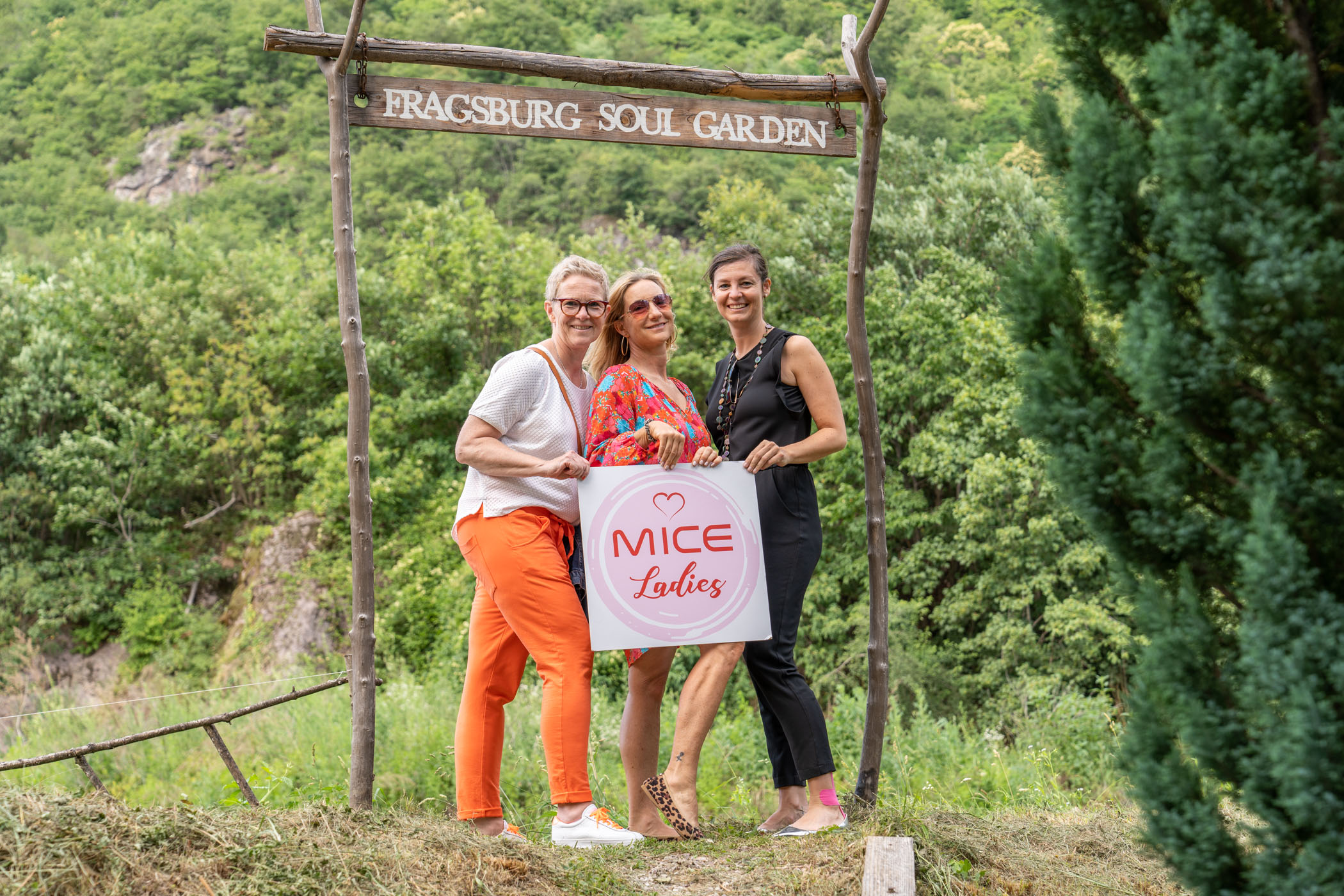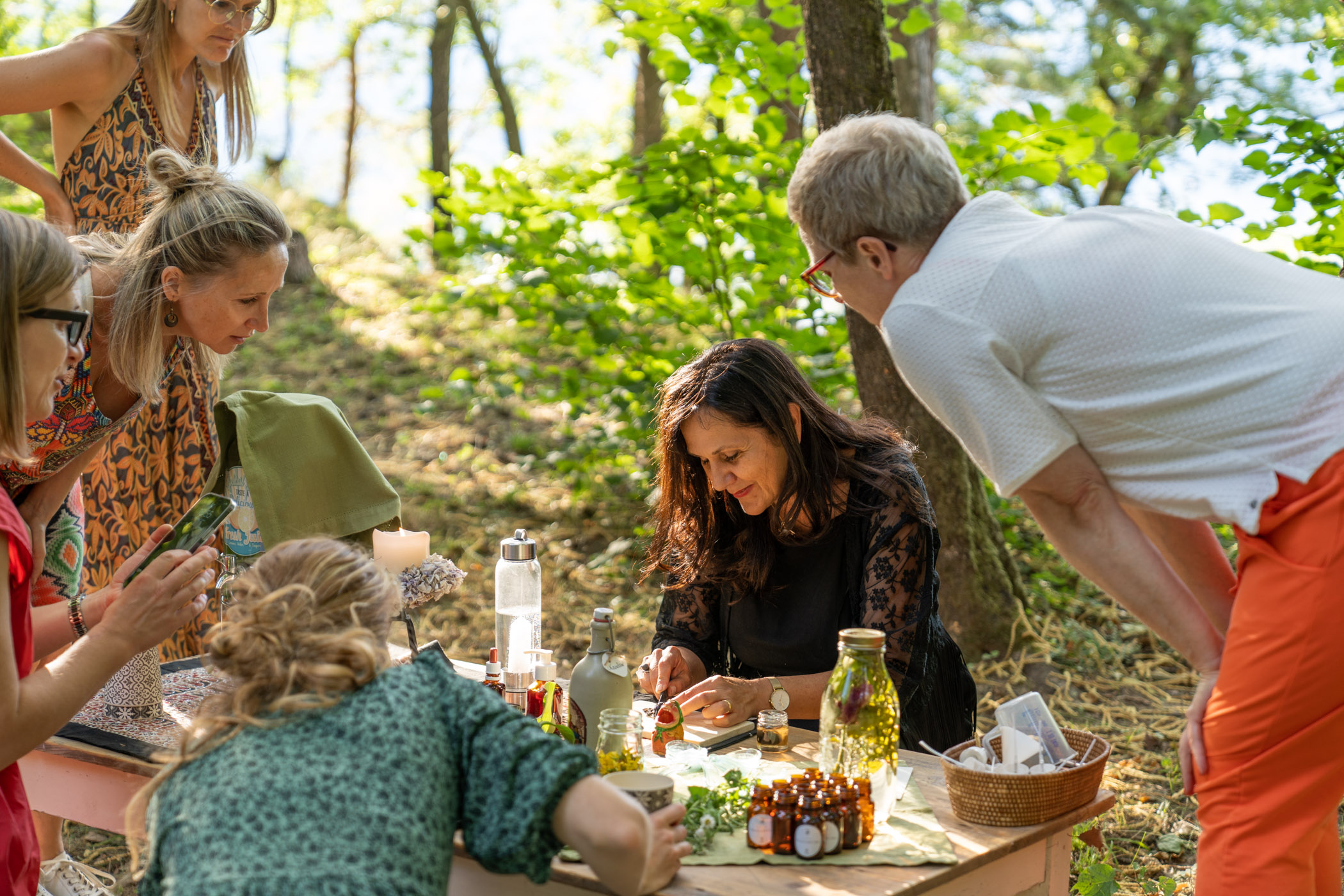 The Magic Forest is located in the area of the stylish Luxury Hideaway & Soul Retreat Castel Fragsburg and the associated impressive castle. You can get there by taking a walk for all the senses through the dense forest below the castle until you reach a clearing and the view opens up over Meran and the landscape from high above.
Right there, in this magical place, Renate, a modern alchemist and naturopath, has built a little paradise for us. With benches and a cozy carpet on the fragrant forest floor, we listen to her tales and exciting stories about herbal and herbal medicine and how to make ointments, tinctures and herbal drinks yourself. We were also impressed by the Secret Garden – a project for refugees who cultivate Fragsburg's own vegetable and herb garden and for whom Renate is a valuable companion and mentor. As the crowning glory, we were allowed to taste and try it out ourselves and also take our personal ointment and a wonderful tincture with us.
The castle is a real insider tip – after being vacant for a long time, it was reacquired by the hotel owner and is available for exclusive rentals for groups. You can meet in a wonderfully romantic way in the magnificent inner courtyard with a view of the Merano Alps – like real lords and ladies of the castle, you can dine in the centuries-old, wood-panelled hall. Wonderful exciting experiences on medieval traces! A trip to natural and herbal medicine is an in-depth experience with all the senses, which can be combined with a herbal hike, which rounds off incentive and event programs wonderfully.
Tisens near Meran: Sheroe 7
Anna Matscher, the only female Michelin star chef in South Tyrol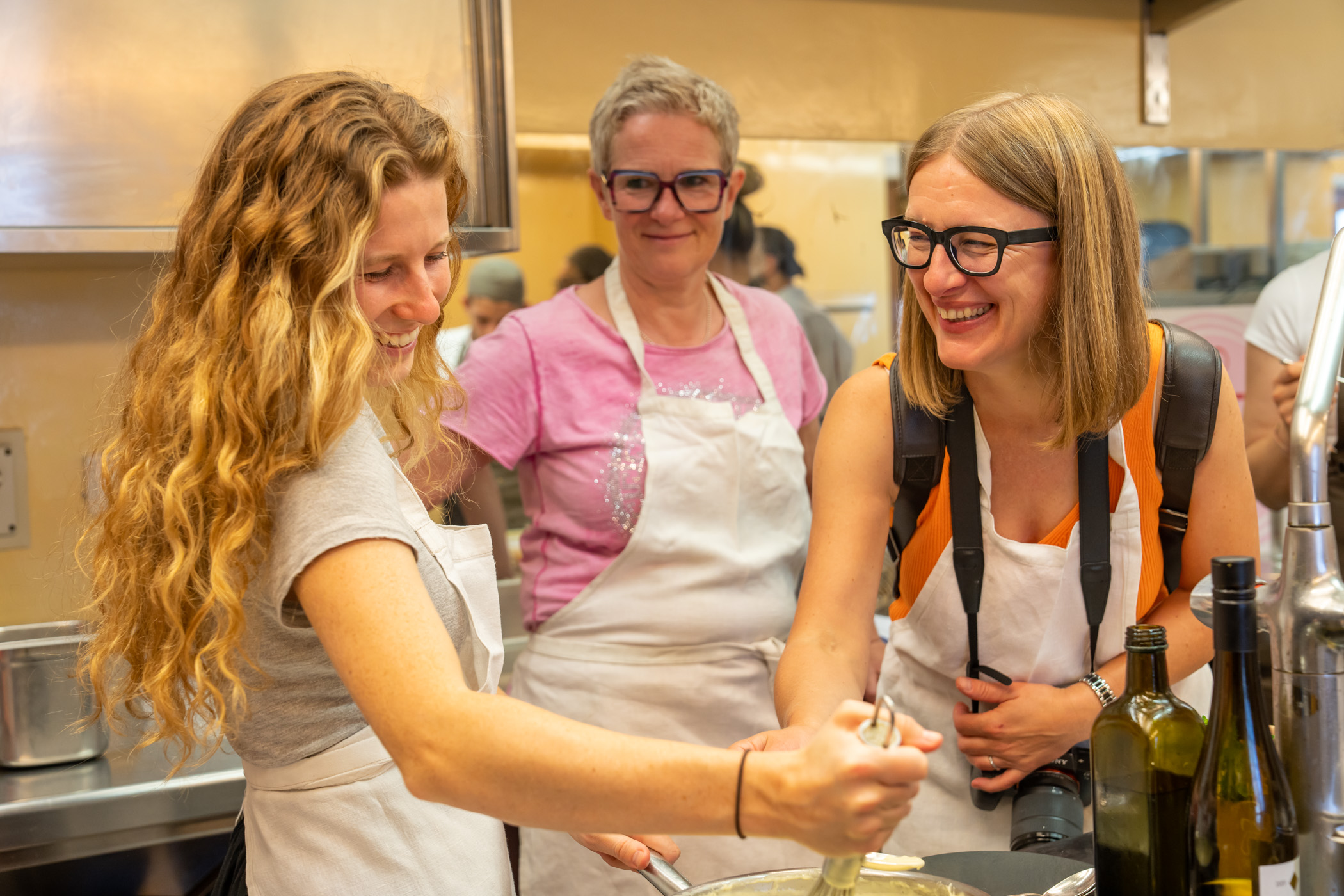 With Anna Matscher, we were allowed to be guests for the second time with a MICE Ladies group for an exclusive cooking class – a unique experience! The calm that Anna exudes in her kitchen is always particularly impressive, no matter how many dishes are served at the same time. For us, Anna is both a role model and a living female leadership at the same time. For our MICE Ladies Community, which is characterized by female empowerment and mutual inspiration, it is always valuable to get to know strong women in their element and thus in leadership and to be inspired by their leadership qualities.
Her listed monument zum Löwen, has been lovingly restored and expanded with a modern vision. Here everything – including going to the "quiet place" – becomes an experience!
Anna selected and put together a very special vegetarian menu for us: beetroot tartare in Schüttelbrot coating with horseradish sauce, Schüttelbrot tortelli filled with alpine cheese fonduta, nettle cream and yarrow, mushrooms with South Tyrolean mushrooms, marjoram and wild garlic oil, herb soup with red basil sorbet and pineapple sorbet. The feast for the palate and eyes was accompanied by corresponding wines, and we received charming and well-founded advice from Anna's husband. As a long-lasting half-day program, this unique experience is ideal for smaller groups and incentives who want to experience the culinary delights of the MICE destination South Tyrol through a special class cooking experience program.
A culmination of a wonderful MICE Ladies trip! Equipped with many ideas for creative supporting programmes, culinary highlights and fantastic hotels, our MICE ladies set off on their journey home. And are already looking forward to coming back to South Tyrol with their customers!