A wonderful journey lies behind us, which brought us, in the spirit of "Business & Balance", from lively Zurich to St. Moritz, where we were able to spend wonderful days in the most beautiful sunshine!

Traveling with us: selected corporate and agency planners from the D-A-CH region, who have set out to experience a very special kind of travel adventure together and at the same time get to know a MICE destination from its most beautiful side. Like all of our trips, this 4-day travel experience can also be planned as a team building, incentive or high-end group trip!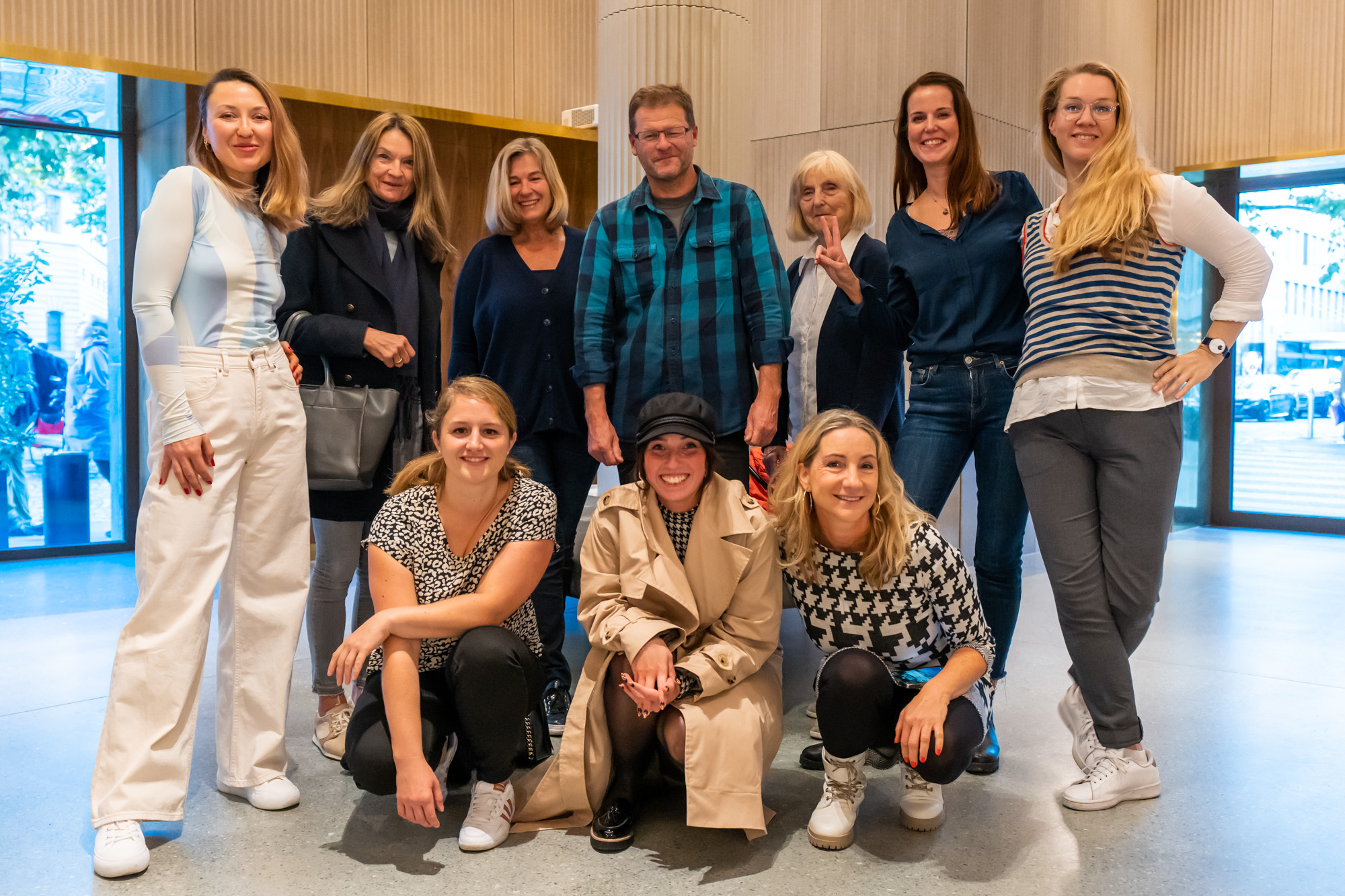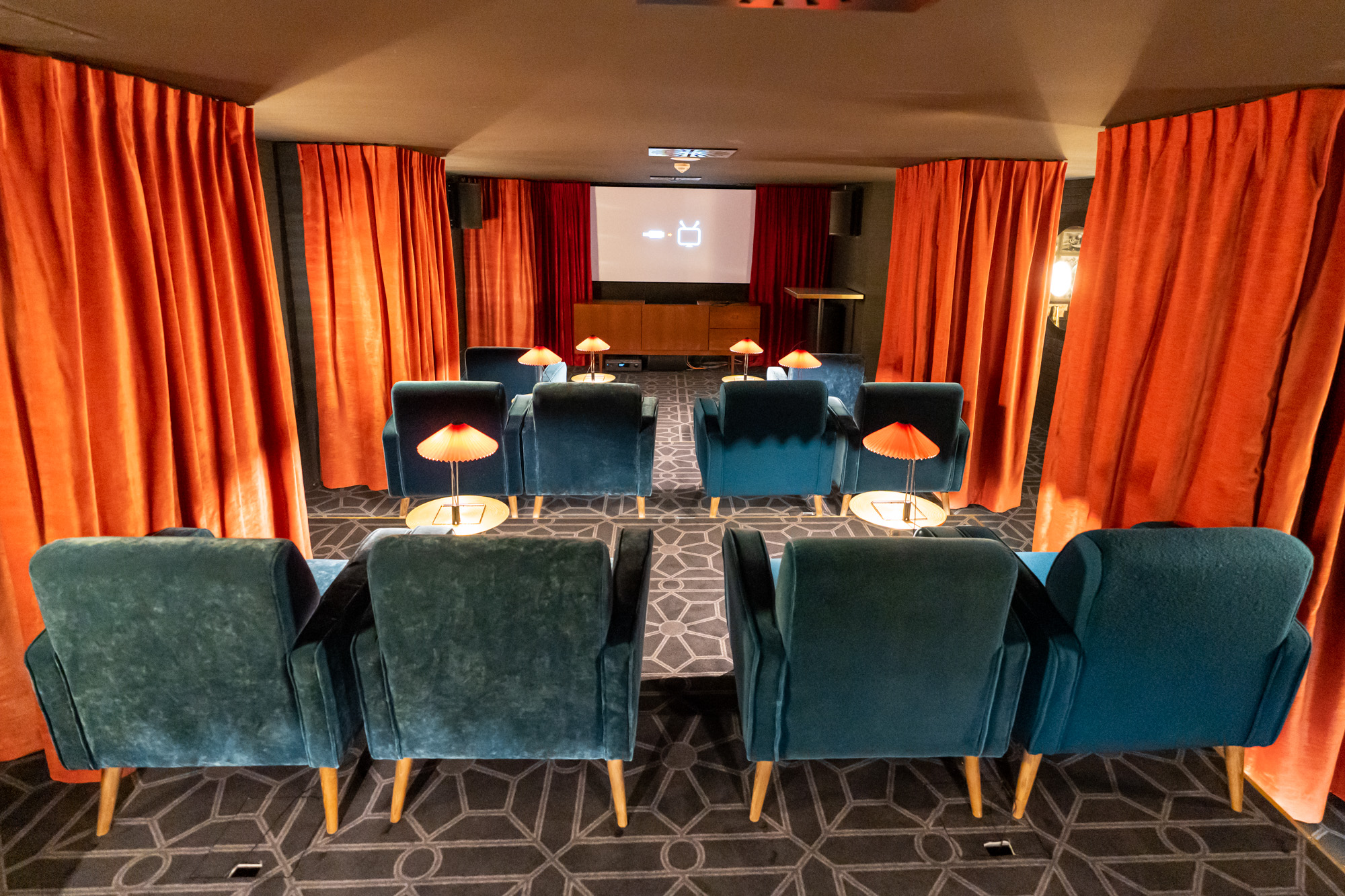 It all started on Tuesday, October 4th, 2022 in the stylish Lean Luxury Ruby Mimi Hotel, a lavishly renovated former cinema with a really cool design in a prime central location in Zurich. There we met Romana Six, head of MICE operations for RUBY Hotels, who gave us an exciting update on the expansion of the RUBY hotel brand. The philosophy of the Ruby Hotels suits us perfectly, because every hotel is named after a strong woman of the past or present! The Lean Luxury concept of the hotel chain with antiques and collectibles that have been translated and repurposed into our time is absolutely contemporary and sustainable!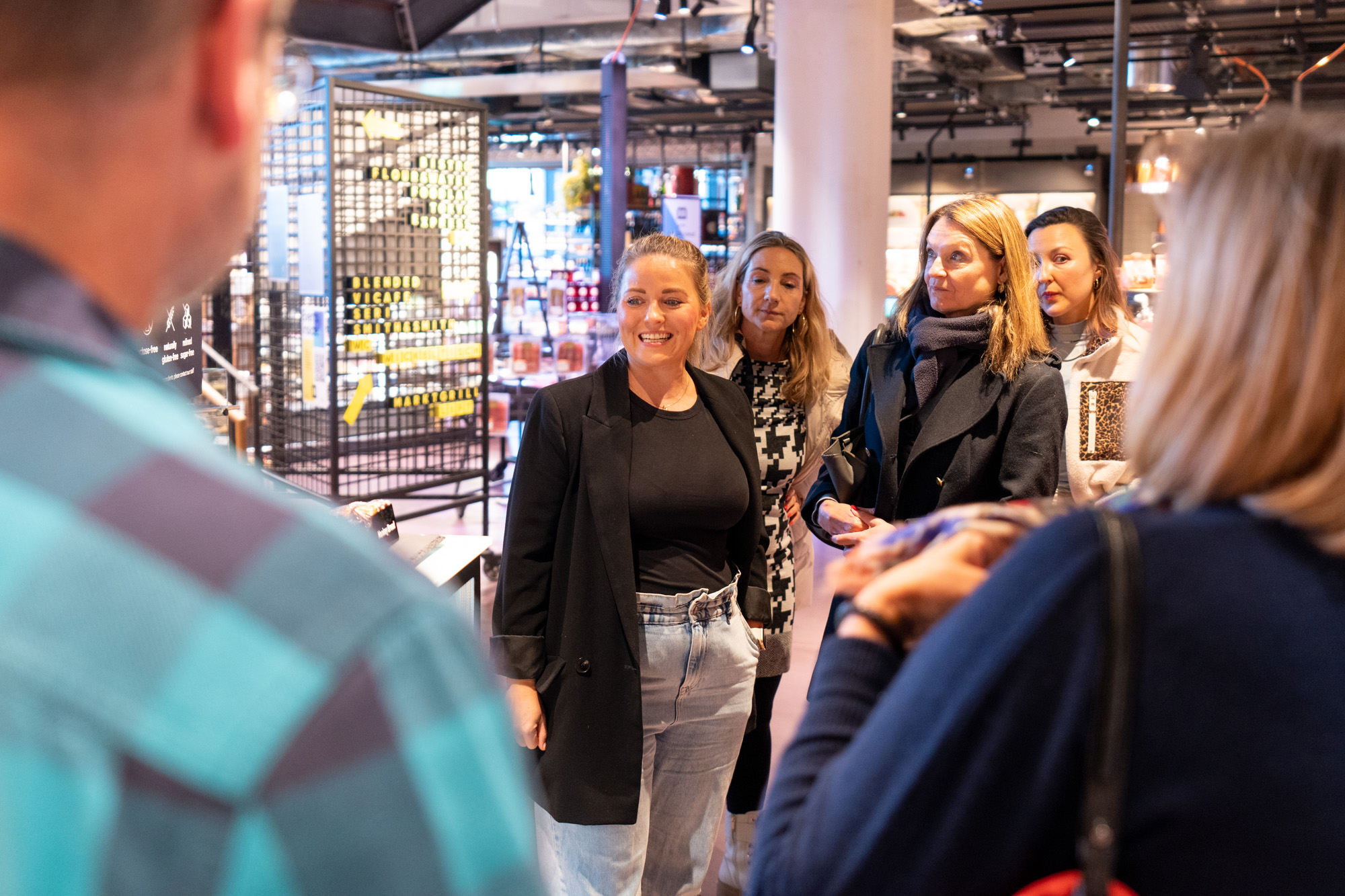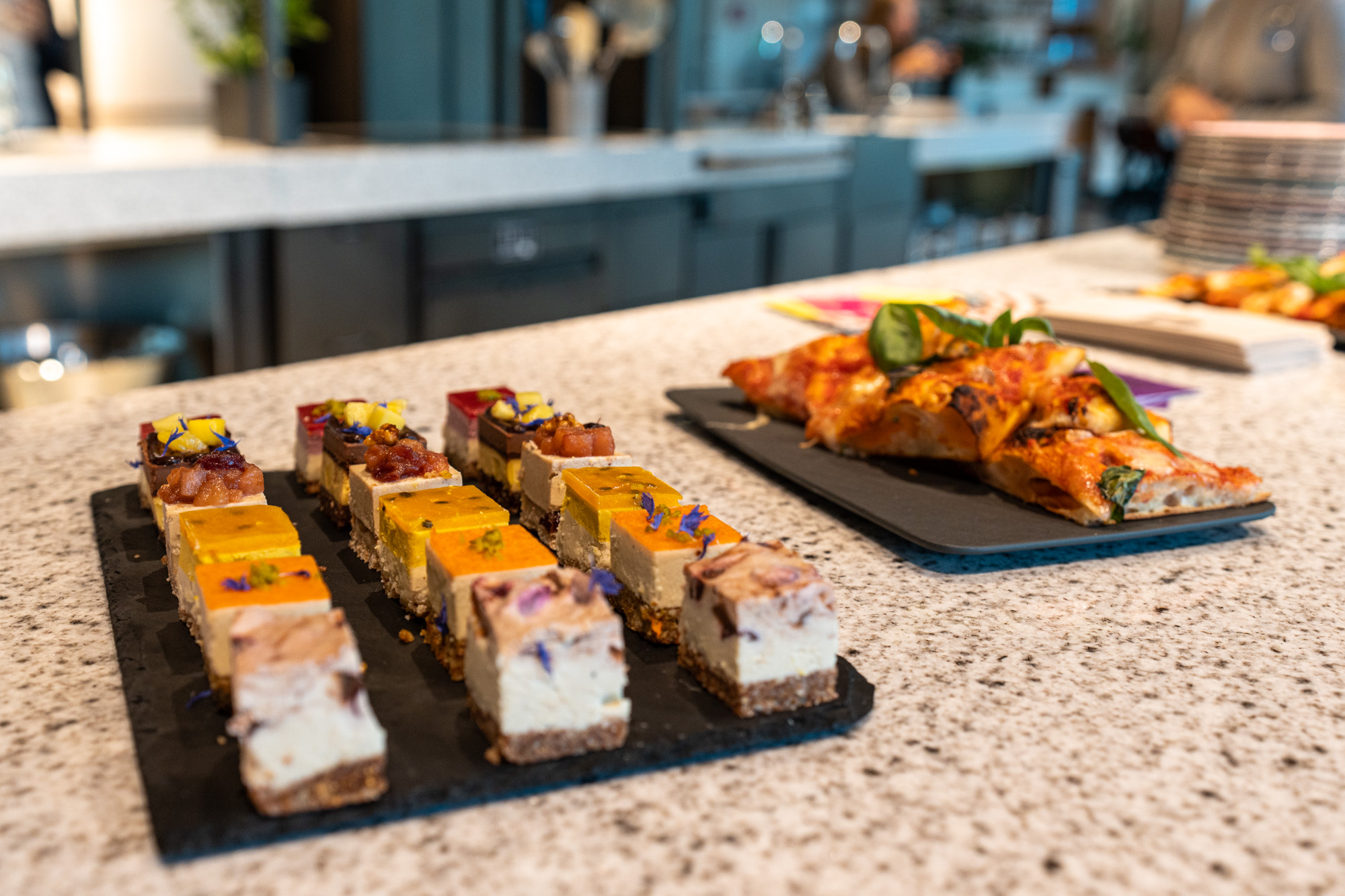 In the evening we got to know Zurich from a very special side during an inspiring "Walking & Dining Tour". It all started at Bridge where Alina Russ, founder of Lola´s Kitchen – the first vegan, gluten- and sugar-free cake shop in Switzerland – presented her inspiring founding story. We learned from her how she founded her startup in 2017 with zero capital via Instagram – and of course we were also allowed to taste her delicious delicacies.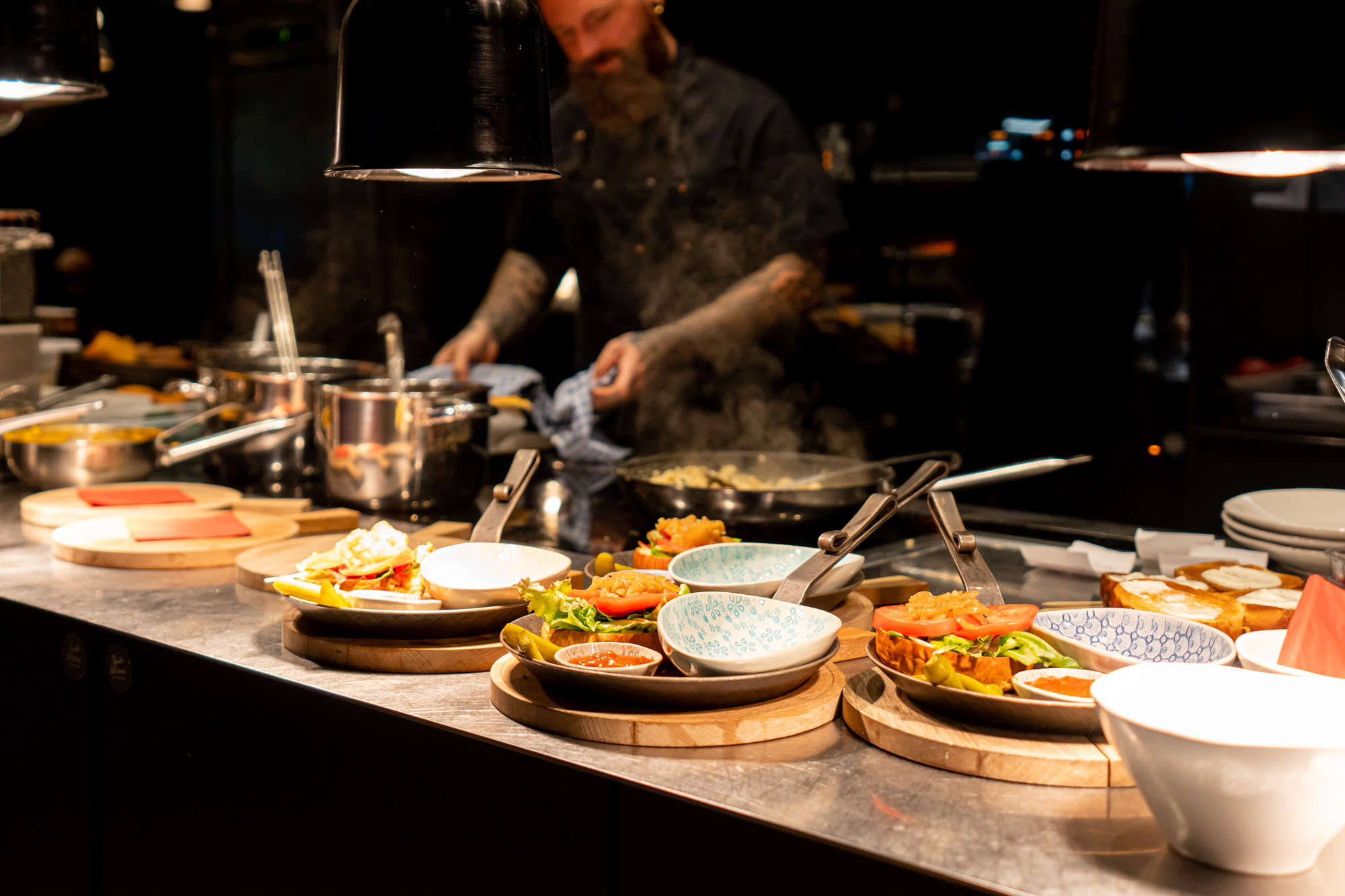 After a short walk through the old town, we went to the city cheese dairy Stadtkäserei, where we were spoiled with "hearty vegetarian" and the boss, Harry, personally introduced us to the MICE possibilities the city cheese dairy has to offer! And that's a lot!
The journey is the goal: Next Stop St. Moritz!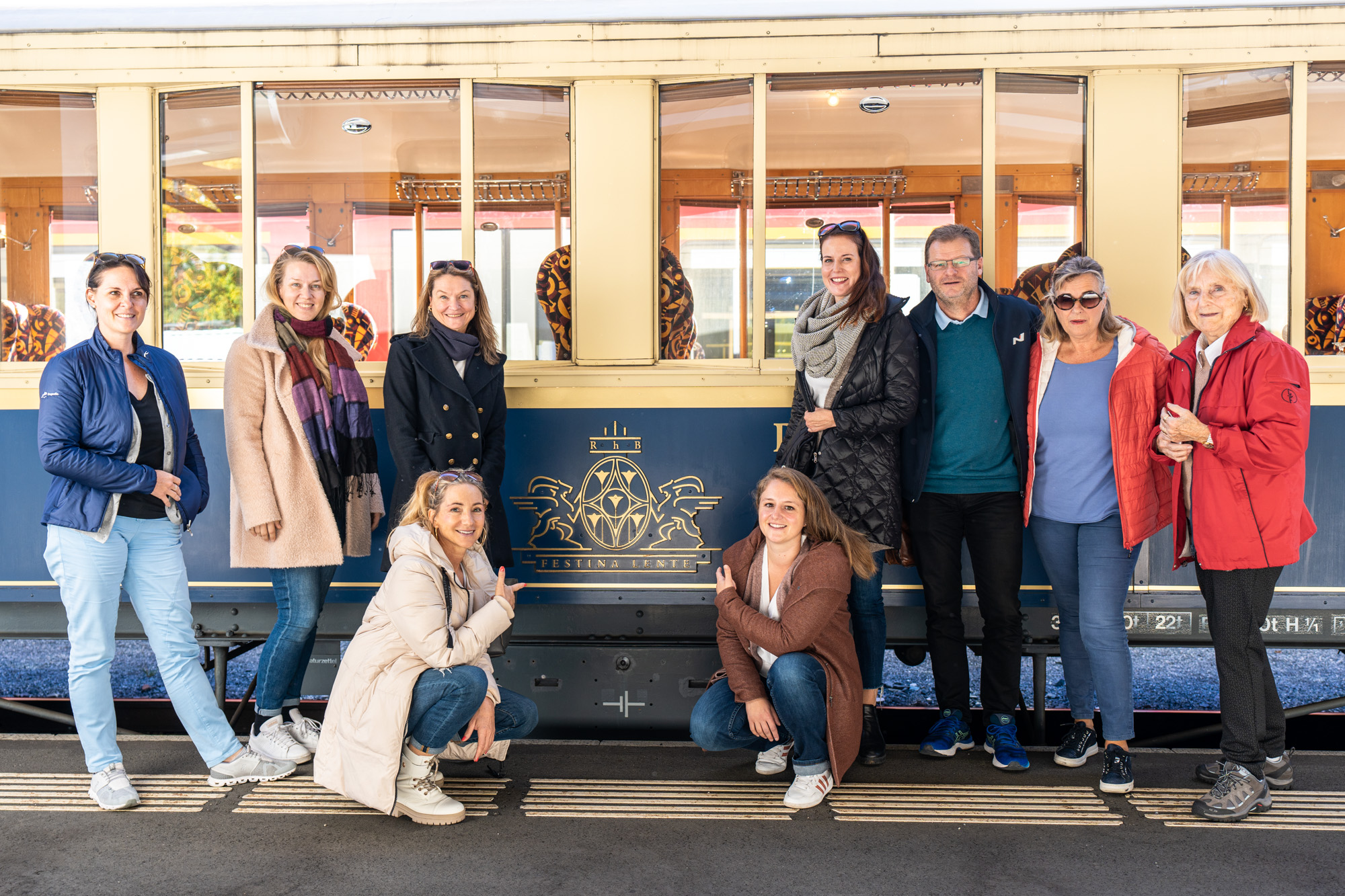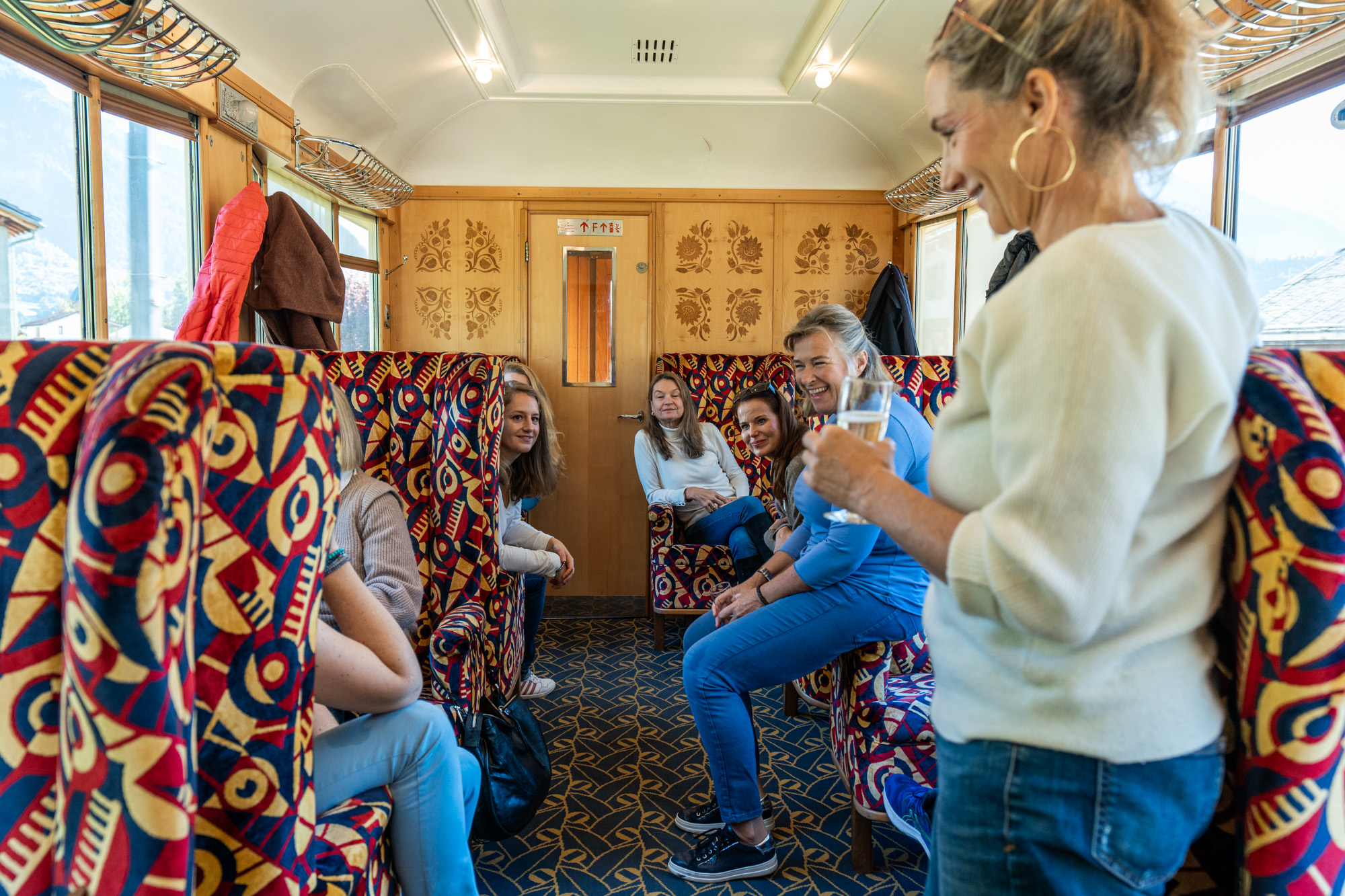 Early the next morning we continued: Sustainably à la SWISSTAINABLE we started by train to Chur, where it said: "Change to the legendary Pullman of the Albula line"! From Chur we drove exclusively in the 1st class wagon of the world-famous Albulalinie of the Rhaetian Railway in the 120-year-old Alpine Classic Pullman on the panoramic route to St. Moritz – a UNESCO Heritage trip!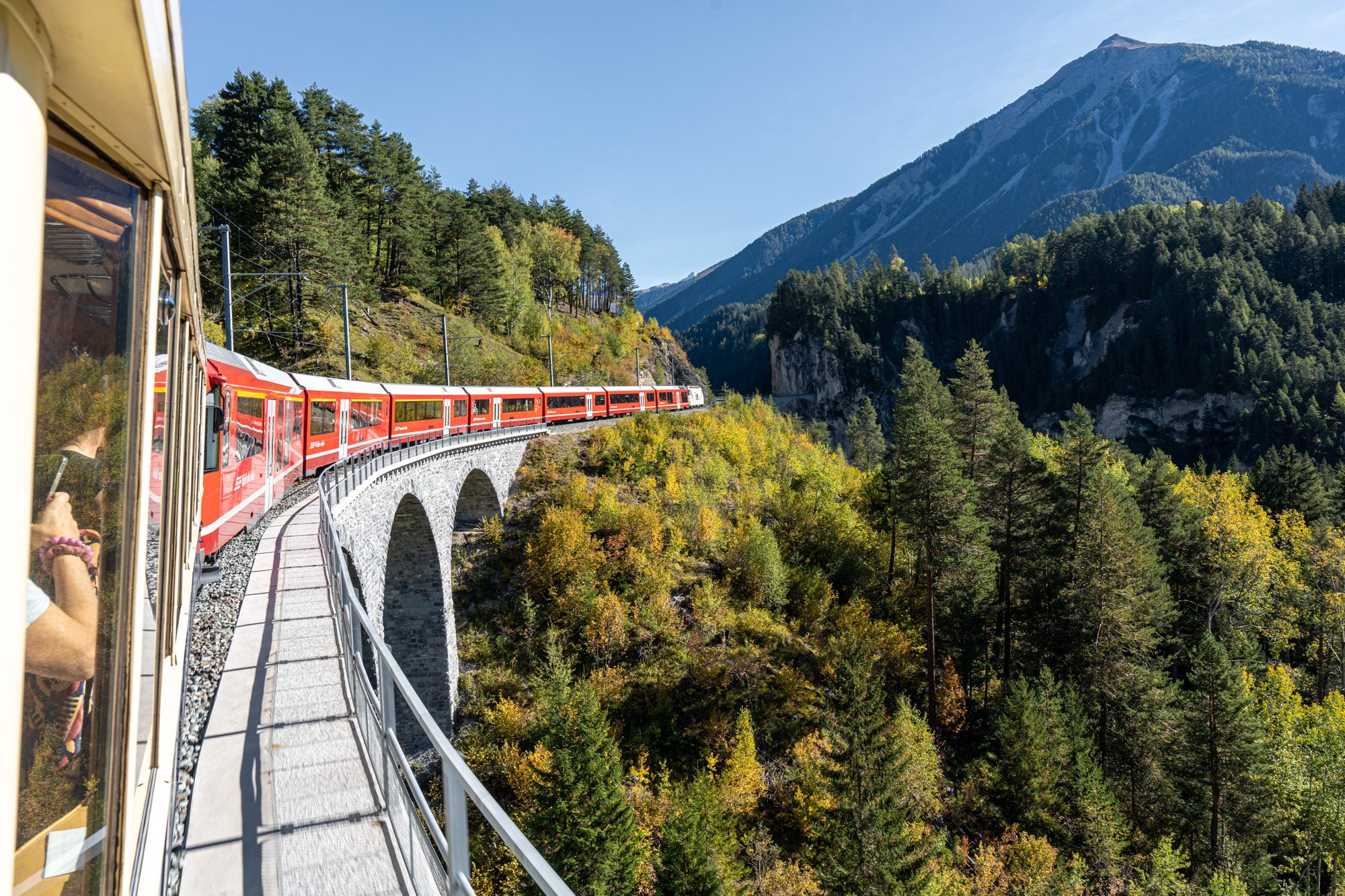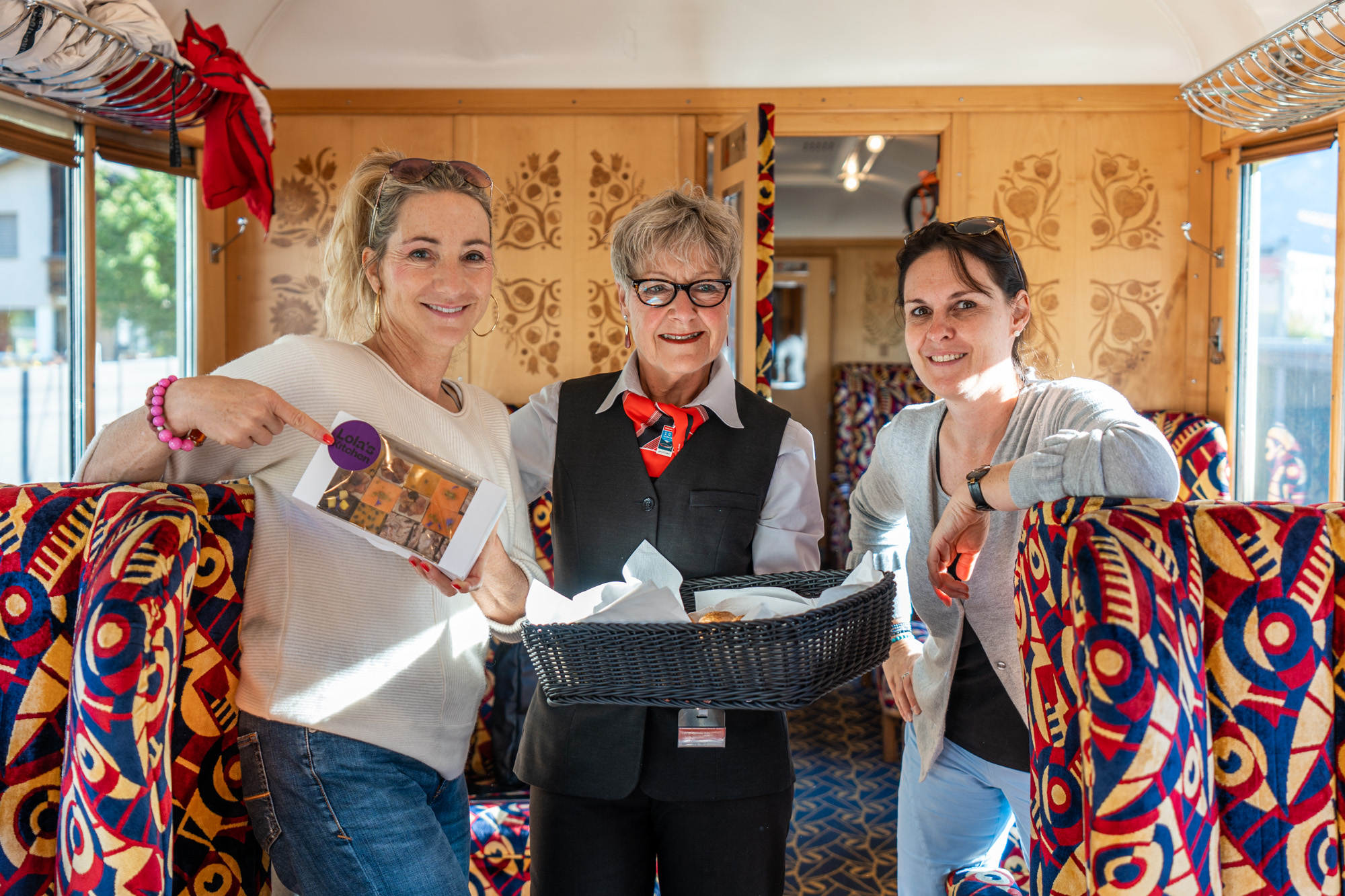 With many WOWs and OOHs, we went through a grandiose and impressive landscape, first through gentle hills and then passages with viaducts and tunnels that became increasingly rocky. The historic train made the journey itself an experience and part of the program, perfectly cared for by the nicest employee of the Rhaetian Railway with champagne and pastries. We used the time to get to know each other in a different way with a team coaching – a wonderful and very personal start!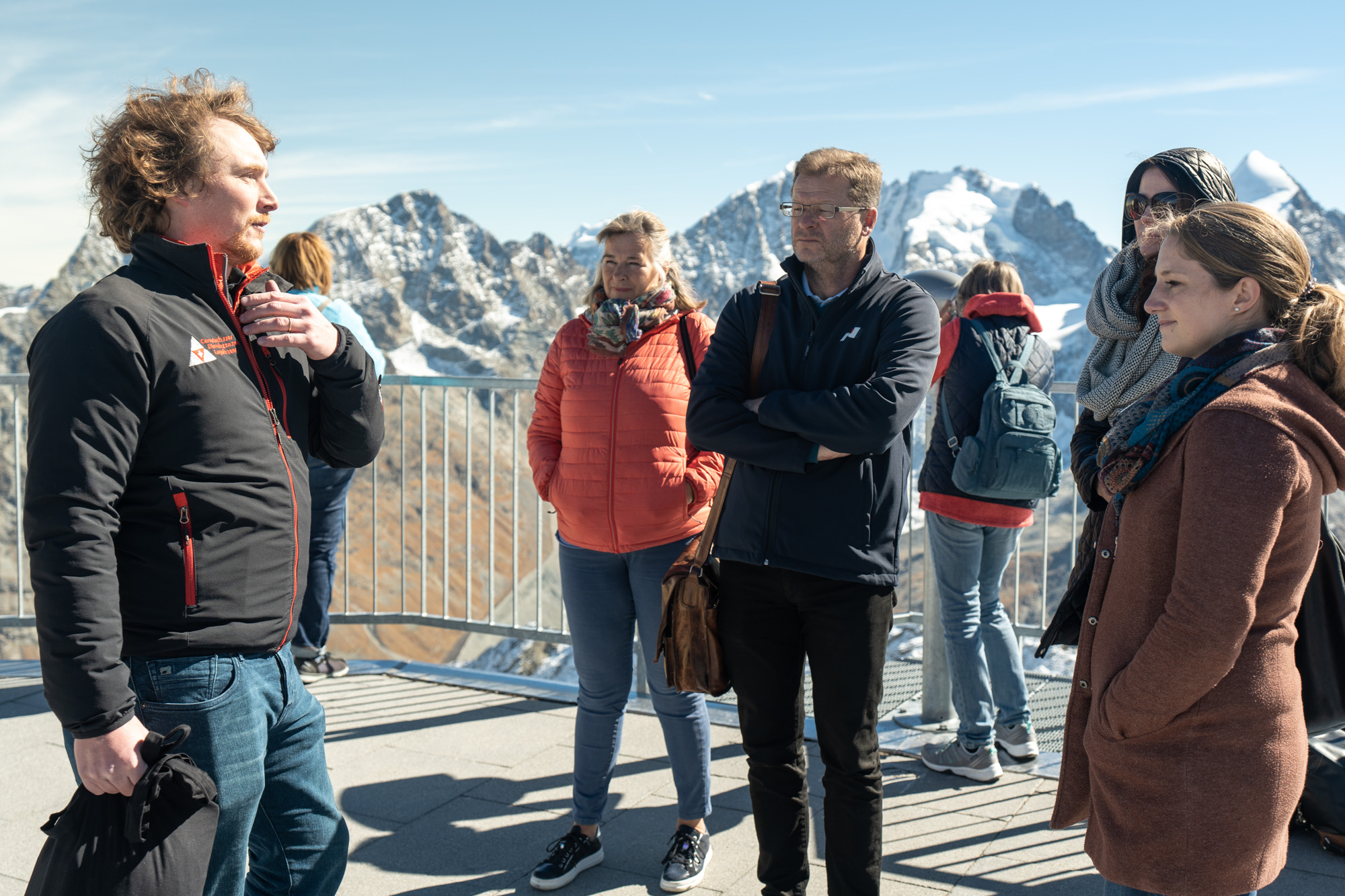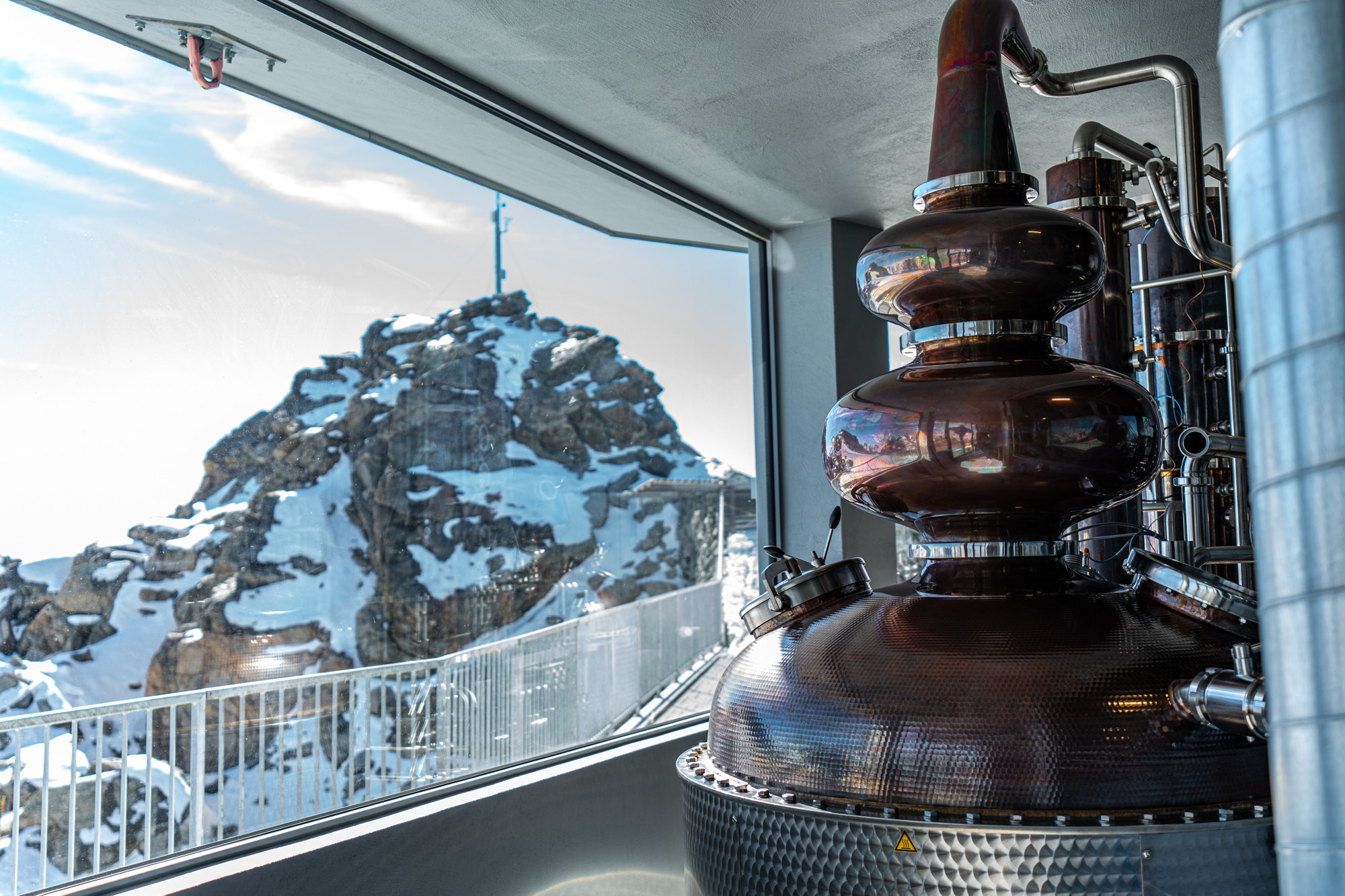 Immediately after our arrival in St. Moritz we went up to the Corvatsch at 3303 m above sea level. – Top of the world! – where we ate wonderfully: chestnut soup with a hint of whiskey, gersotto with saffron and, for dessert, polenta and lemon cake with a root berry and whiskey garnish. On the trail of whiskey as a leitmotif, we then visited the ORMA Whisky Destillerie: the highest in the world high up on the Engadin mountain plateau. Rinaldo, the founder himself, reported in an emotional and fascinating way how he and a friend made a dream come true: their own whiskey distillery. And of course, a tasting could not be missing – an absolute highlight for groups!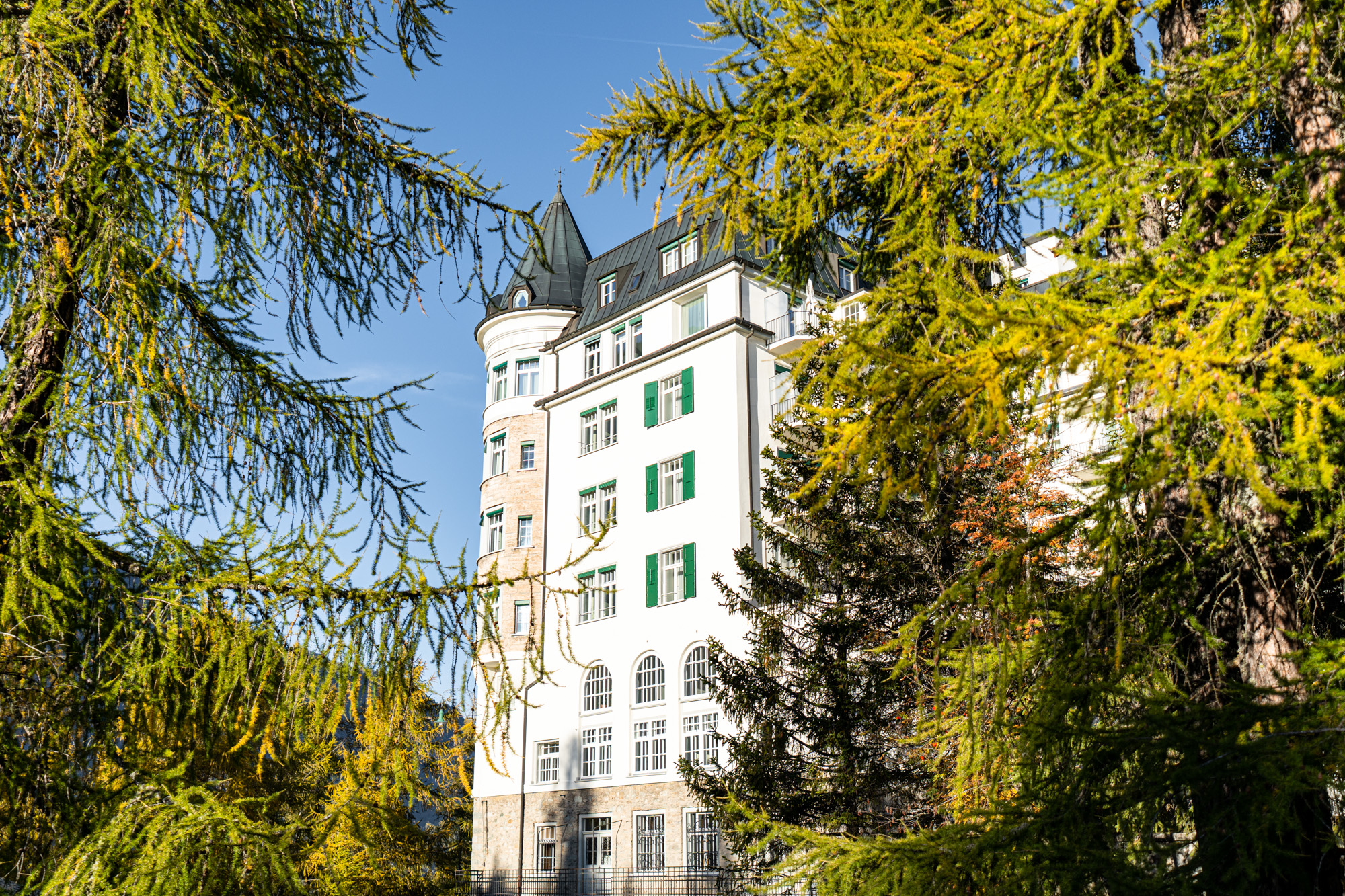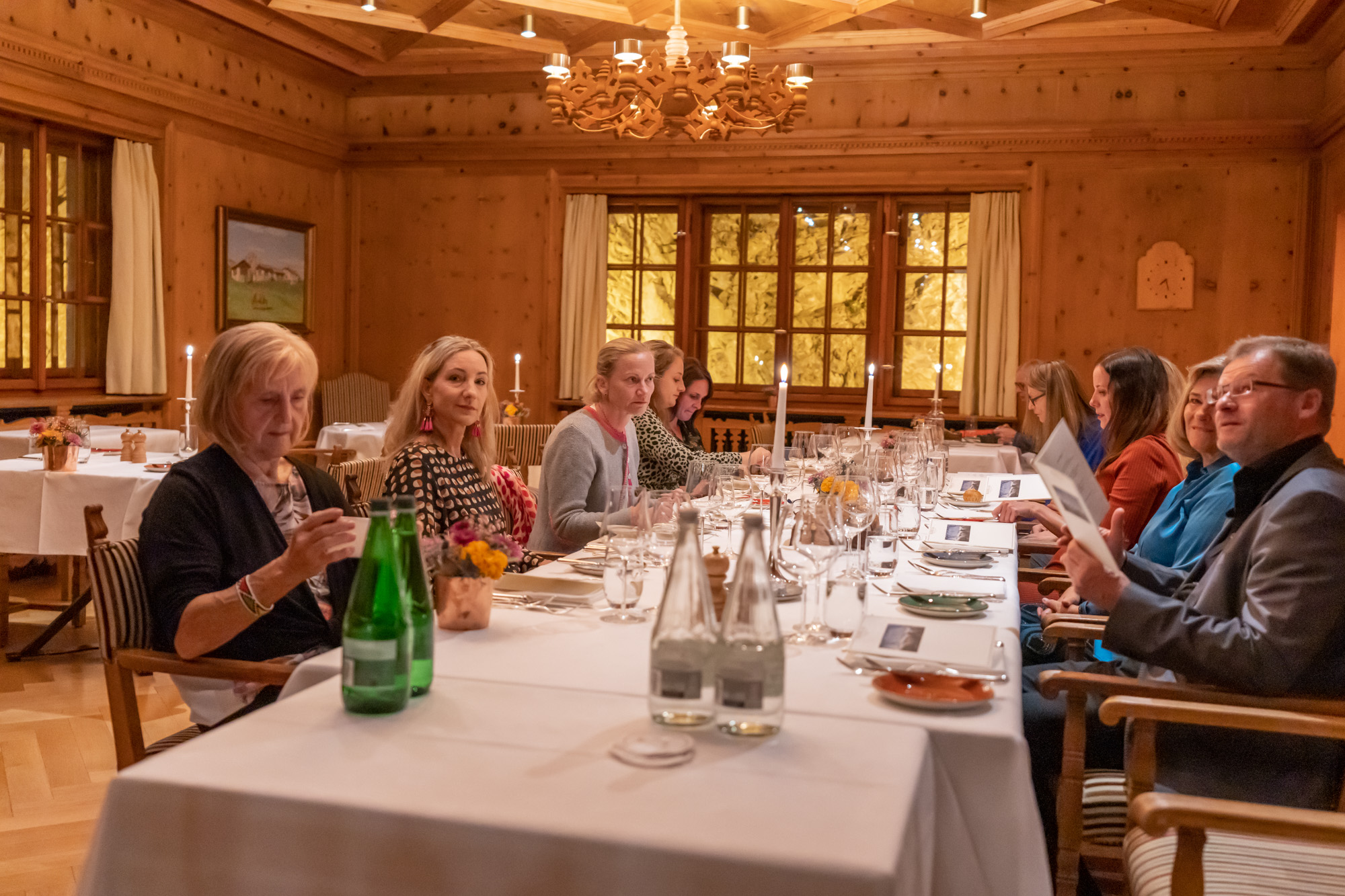 Our home for the next two nights: the idyllically located and beautiful owner-managed 5*Hotel Waldhaus Sils – a traditional hotel legend of the Swiss grand hotel industry, in the middle of the breathtaking nature of the Engadine mountains with a view of Lake Sils! We were personal guests of the owner family, who are the fifth generation to run the house "without airs and graces but with character".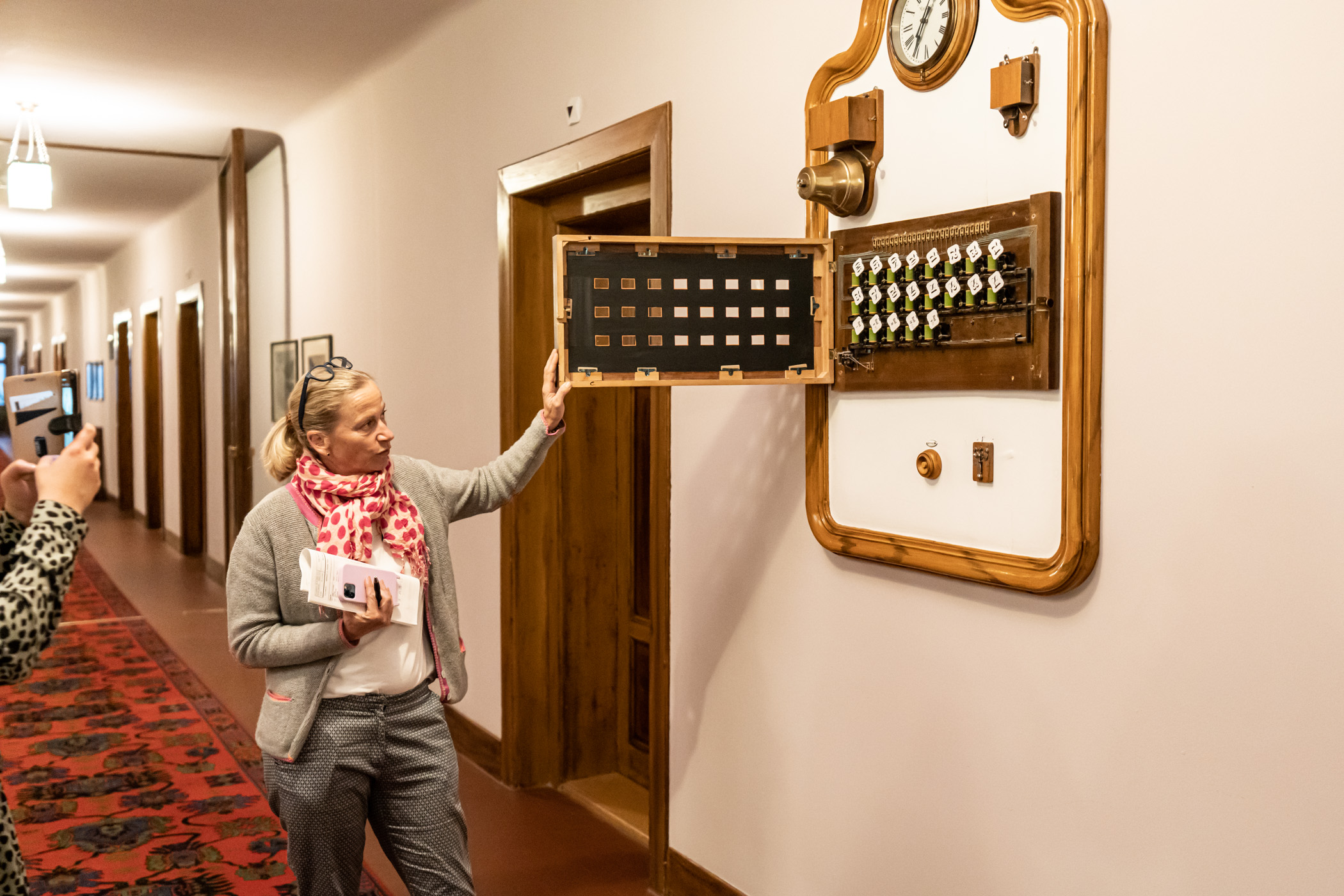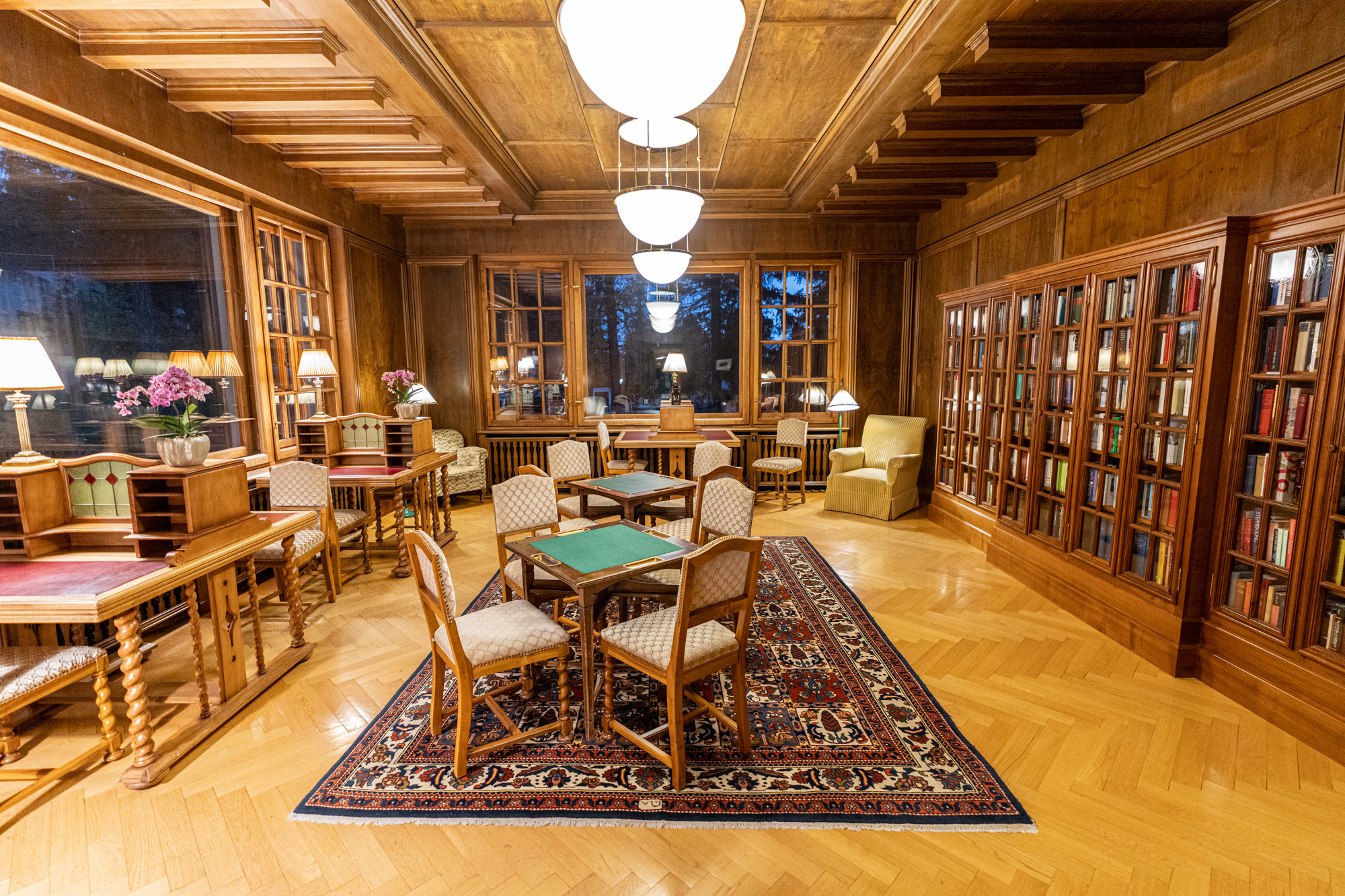 Values and sustainability are very important in the Waldhaus Sils: the historical "room service" system on the Bel Etage can still be seen in its original condition and in its original location – even if it is no longer functional. Preserving the old and combining it with the new is something that the Waldhaus team solves with bravura and ease. This is how islands of tranquility are created, where you can stop the time in a pleasant way and find yourself and the magnificent nature of the surroundings.
Always at our side: Marketing and Sales Manager Flurina Caviezel, who enriched our stay and played a key role in shaping it. Not only is she an impressive personality and sports ace who grew up on skis and snowboards in and around St. Moritz and then spent many years in Canada before moving back to her homeland, she also creates wonderful travel and event programs with that special something. In addition to a lot of creativity and attention to detail, her extensive knowledge of her homeland and nature, which she was happy to share with us, always flows into this.
Impressive and breathtaking: The SPA and wellness area, which is located in the middle of the mountain and is almost invisible from the outside – except for the large panorama window, which appears to lead directly into the mountain from the outside. The afternoon we had time to enjoy the beautiful Waldhaus SPA! We had our completely vegetarian dinner in the Waldhaus in the Arvenstube – the "Zirbenstube"!
Hiking with goats: leadership challenge accepted!
After a great breakfast á la Waldhaus with a lovingly laid table, we started Thursday with an exciting edu session exclusively for our group: Karin Breitenstein presented us with the MICE opportunities in St. Moritz and the surrounding area.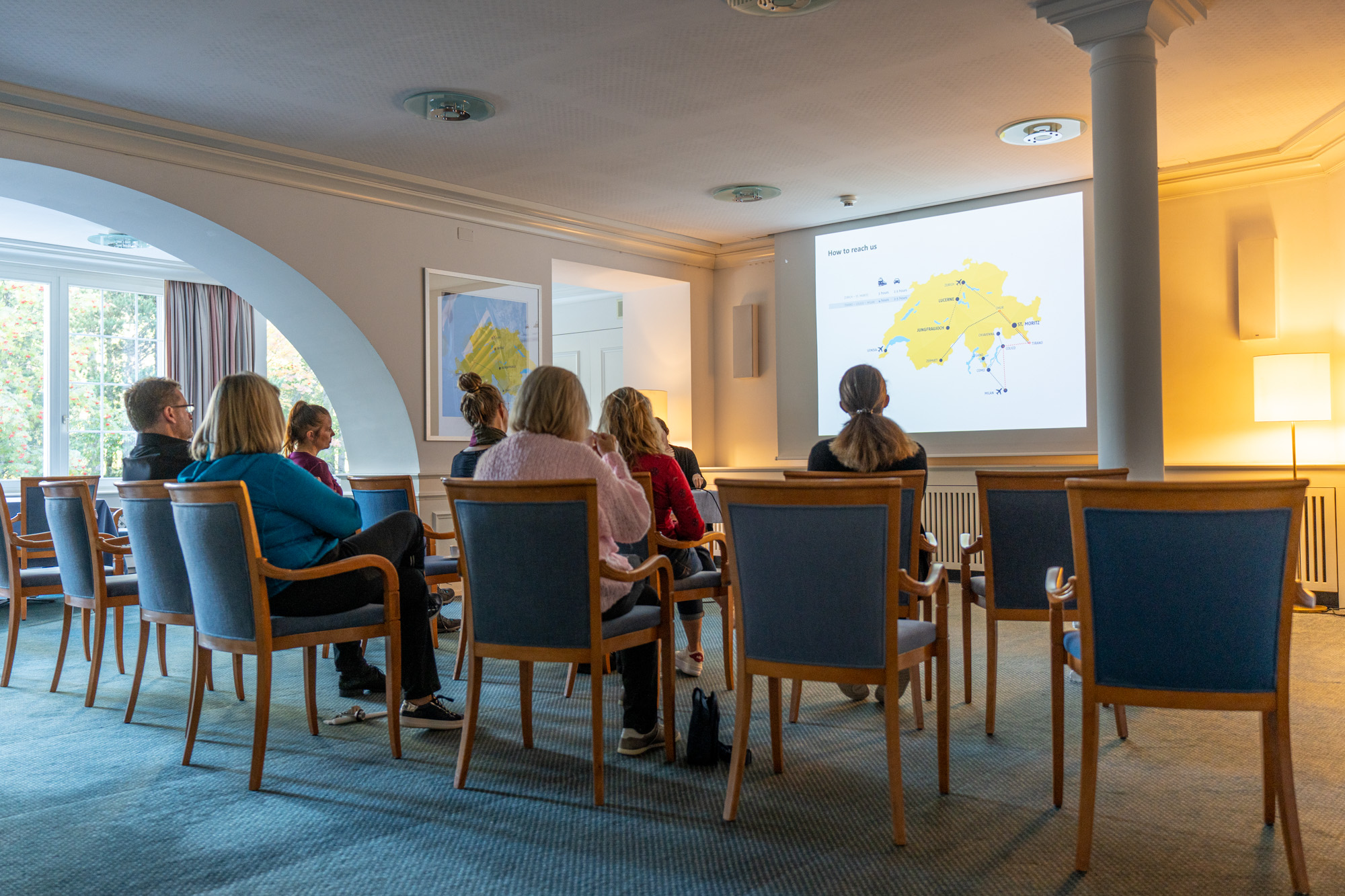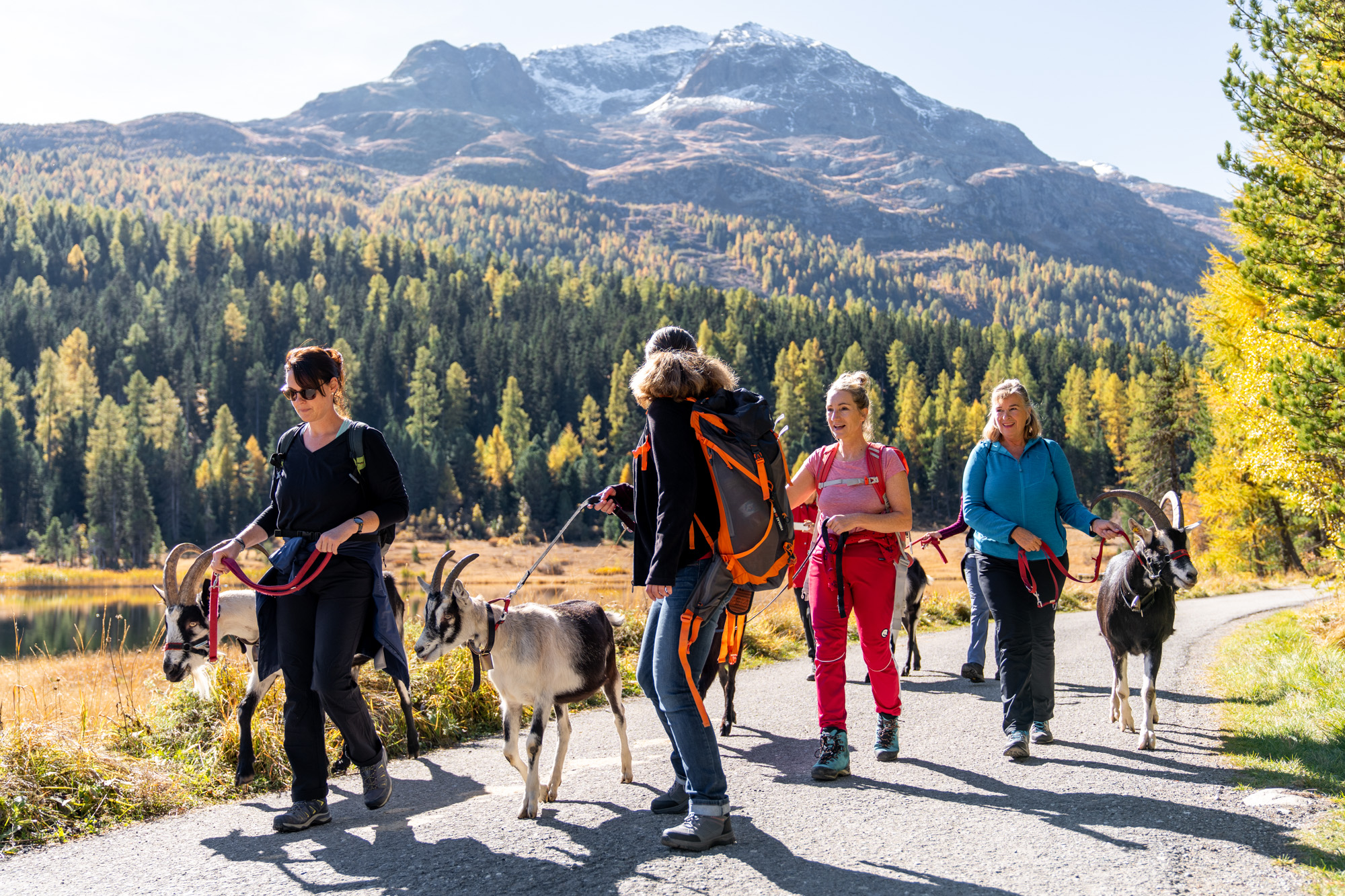 Then we went to a highlight of our trip: Our hike from St. Moritz to Pontresina with goats. A very special experience – made possible by the Engadine native Nicole Buess from Minigeiss Dinigeiss and her flock of goats! She told us her touching and heartwarming story of how the herd of goats found their new home and "job" with her. An inspiring story because she followed her heart and something wonderful came out of it! Each of our participants got their "own" goat – or rather, their "own billy goat", which had to be led by the halter. Each of the gentlemen has their very own personality that had to be adjusted to – aha moments guaranteed!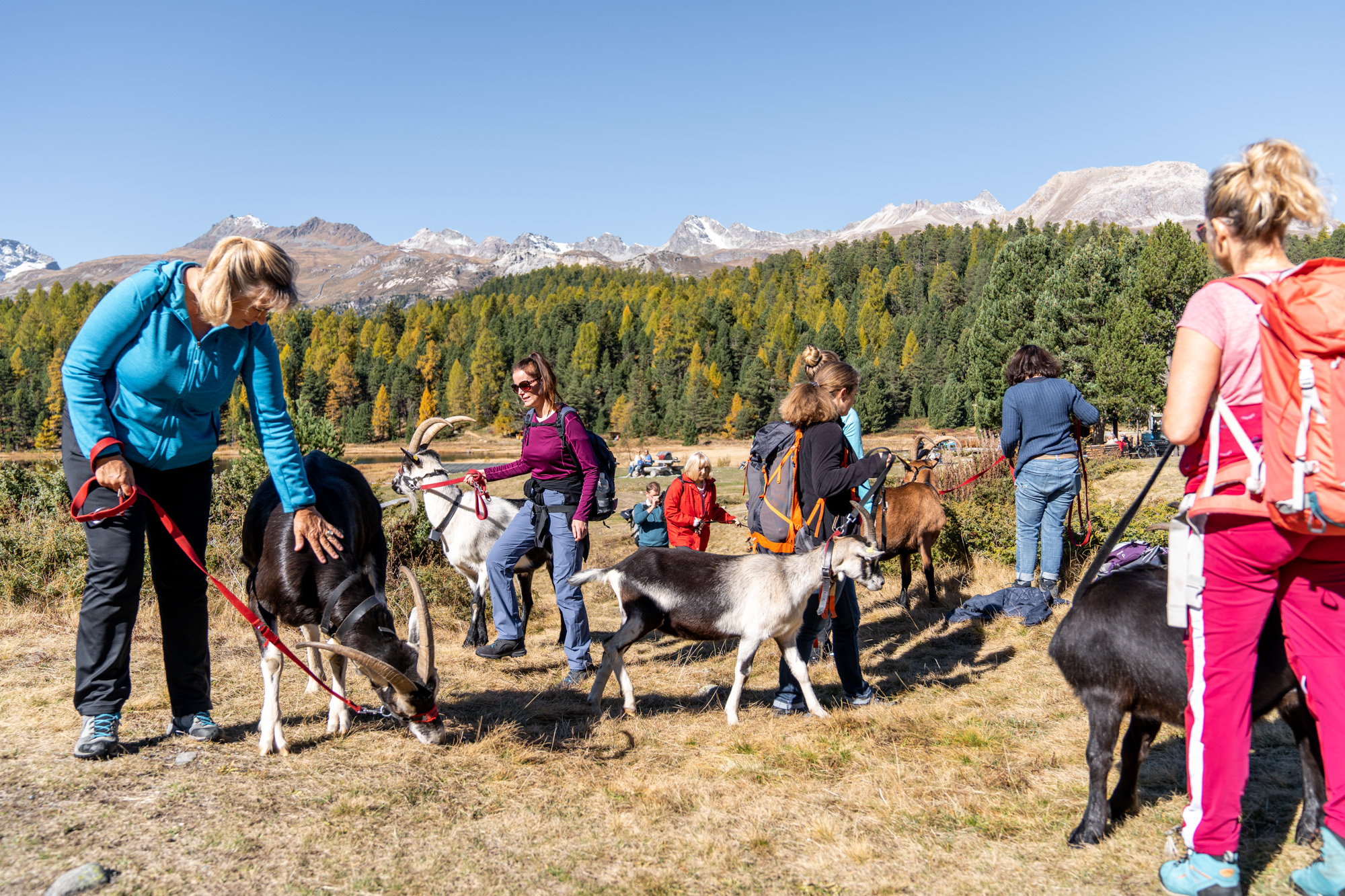 A hike with goats is not only a very fresh idea, but also extremely enriching in terms of content: the animals reflect us humans and thus challenge us to come into our authenticity. A very special experience and wonderfully suited for incentives, team building and smaller groups.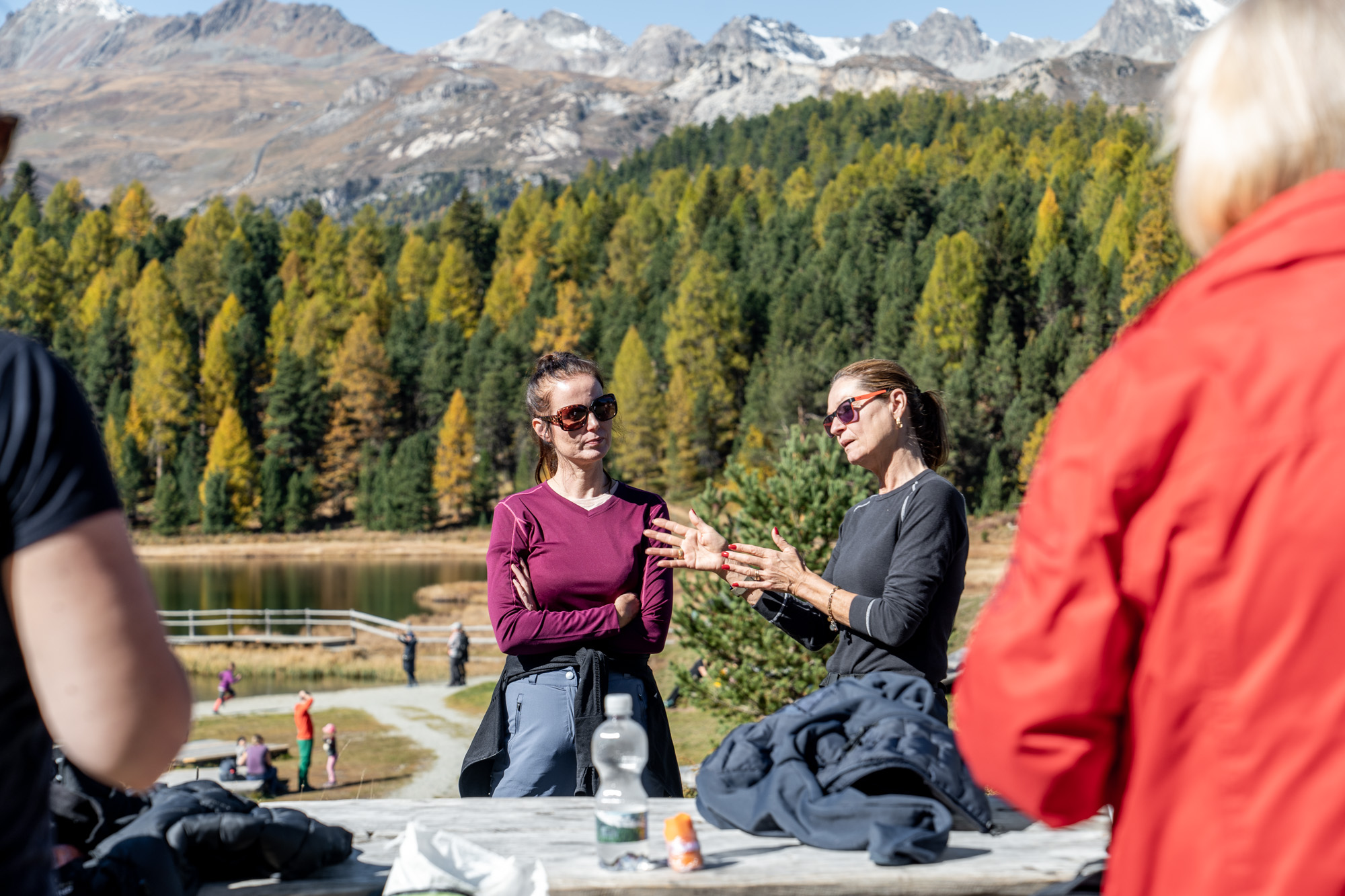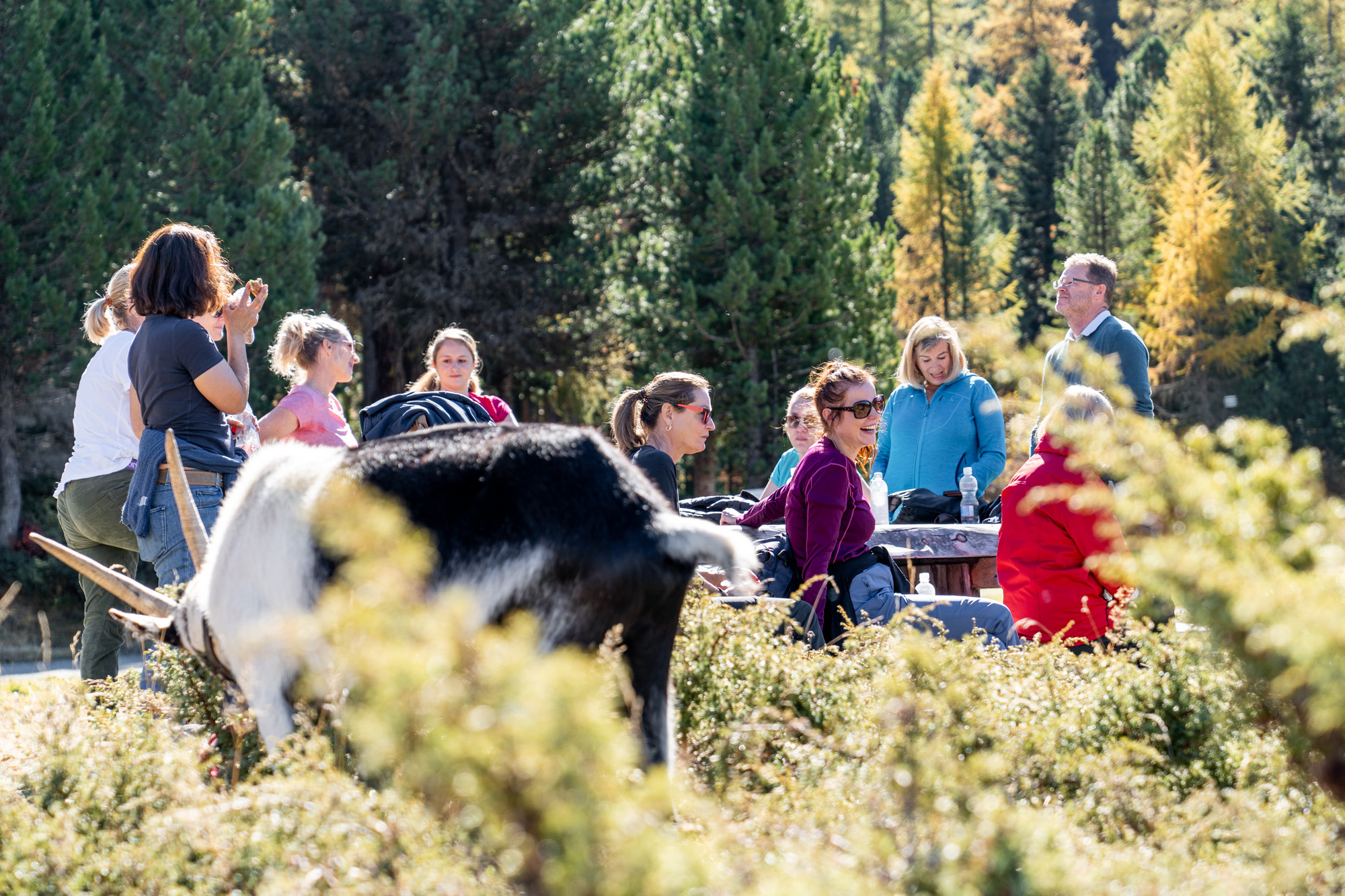 Another highlight awaited us on the lake circuit: Part 2 of the team coaching, where we introduced each other. A gentle coaching unit where we got to know and connect more deeply as a group. We then went along the Stazersee on a level route to Pontresina to the beautiful Hotel Saratz, where we got to know the congress and conference facilities and where we were strengthened by a delicious cake buffet. The Kongress-Center in Pontresina is equipped with the latest technology – wonderful for larger events for up to 450 people who would like to combine tradition with modernity! That view!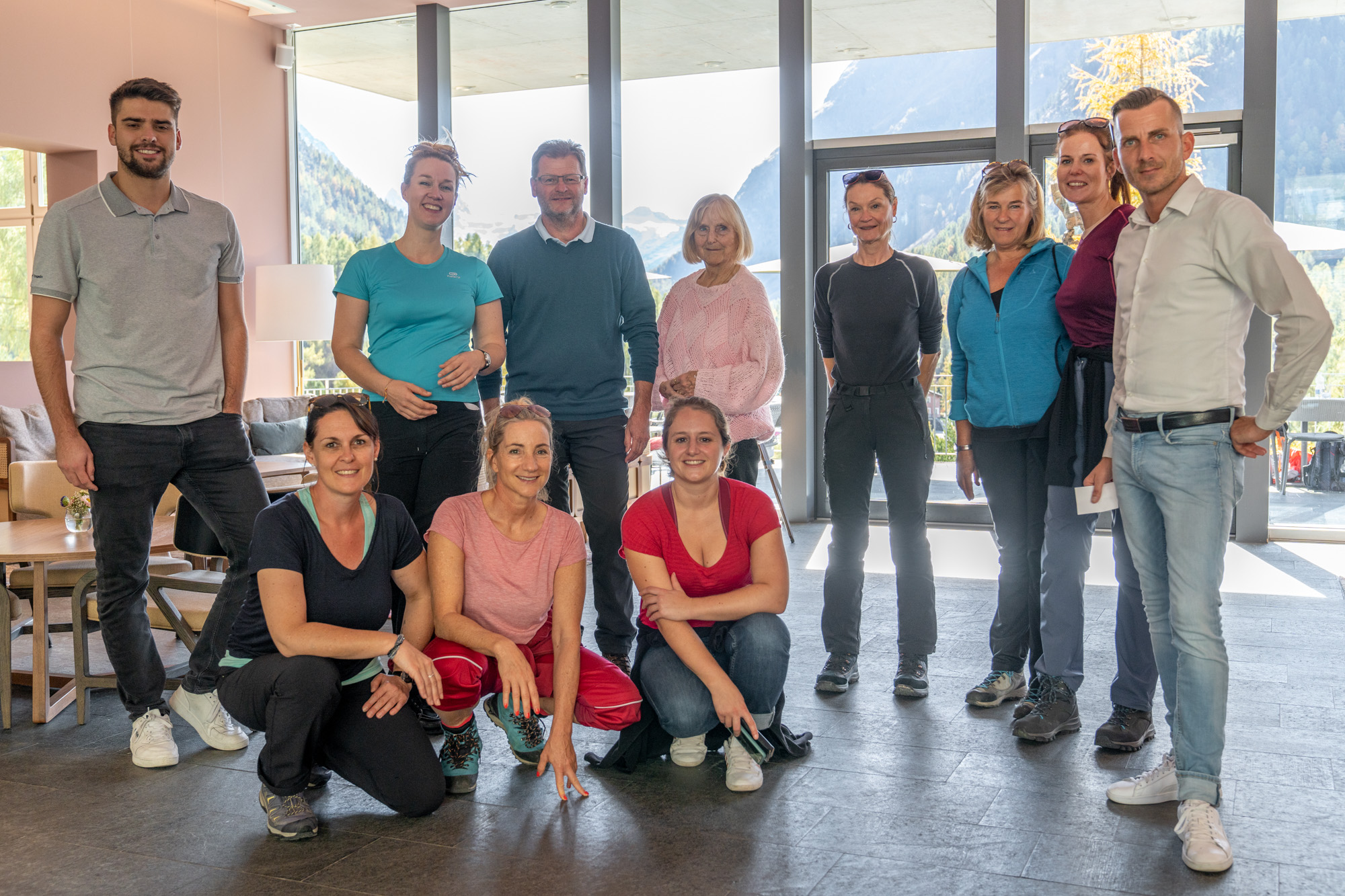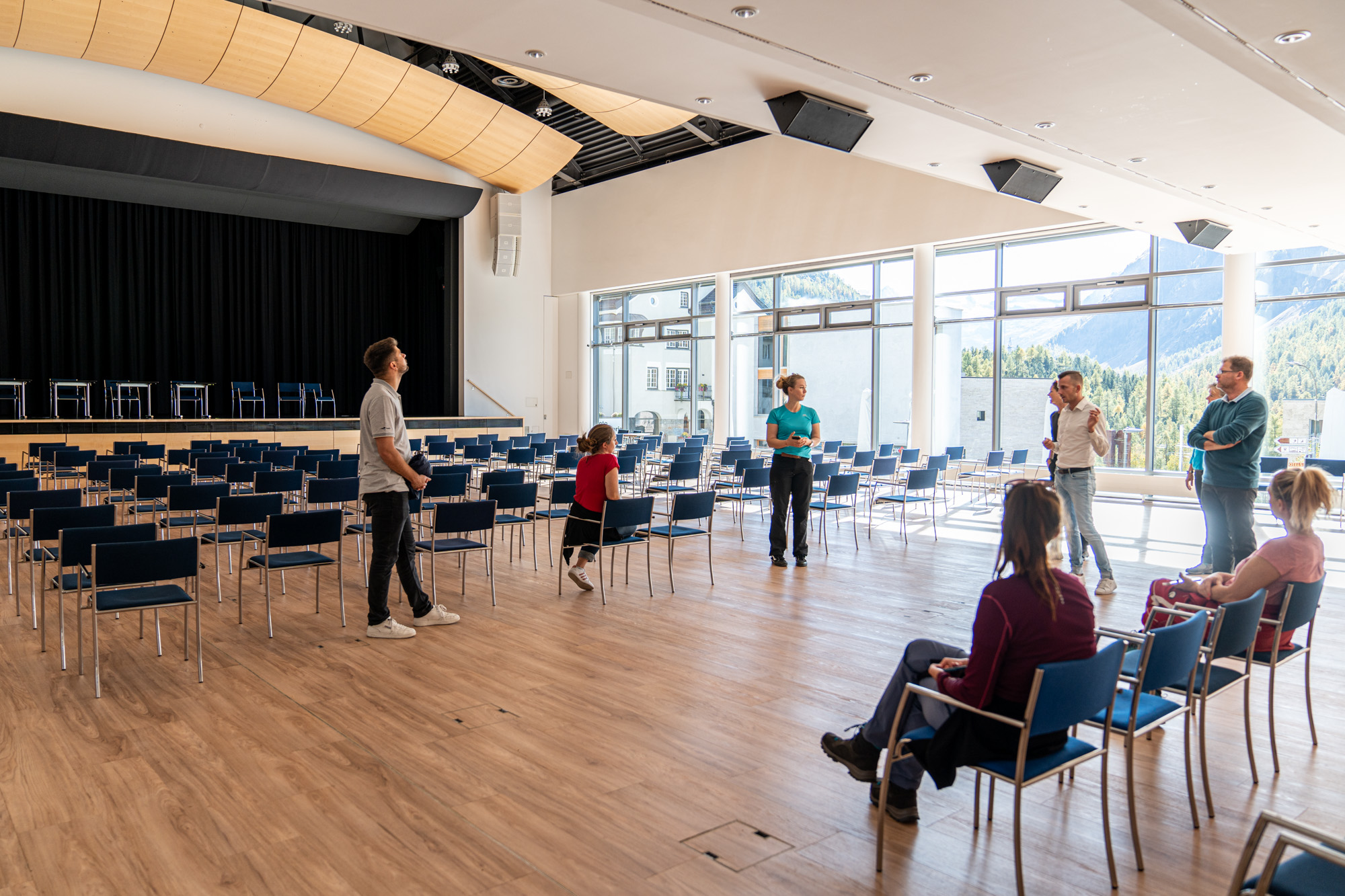 That light! That air! This view!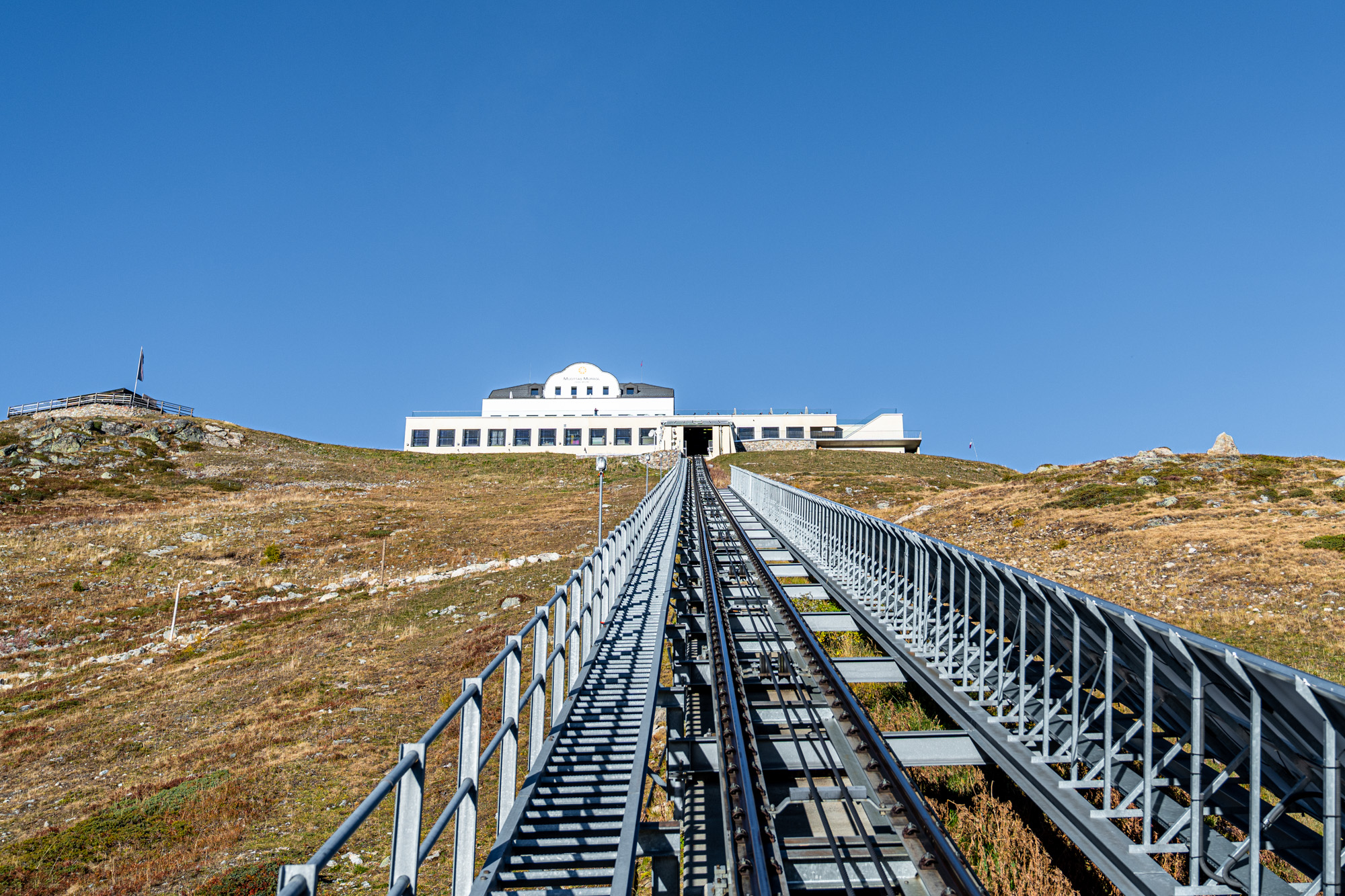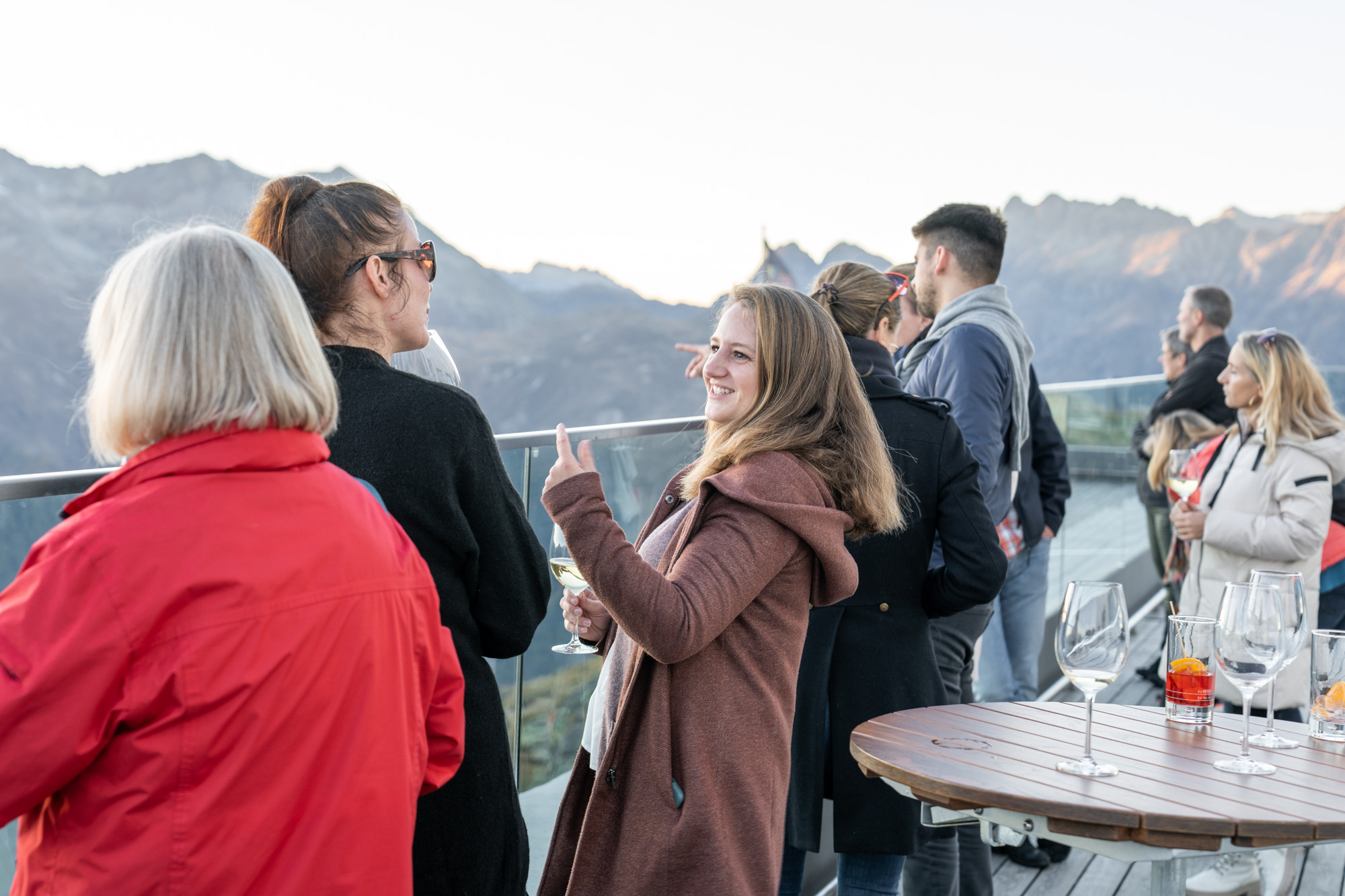 Just as the journey to St. Moritz itself was an experience, so was the drive to our evening. With the Muottas-Muragl funicular, the oldest mountain railway in Graubünden, which was built for tourist purposes, we traveled a distance of 2201 meters and a 56 percent incline to our next destination at 2456 meters above sea level: the romantic Romantikhotel Muottas Muragl. In 1907, the Muottas-Muragl railway rattled up the scenic mountain, which was already popular at the time.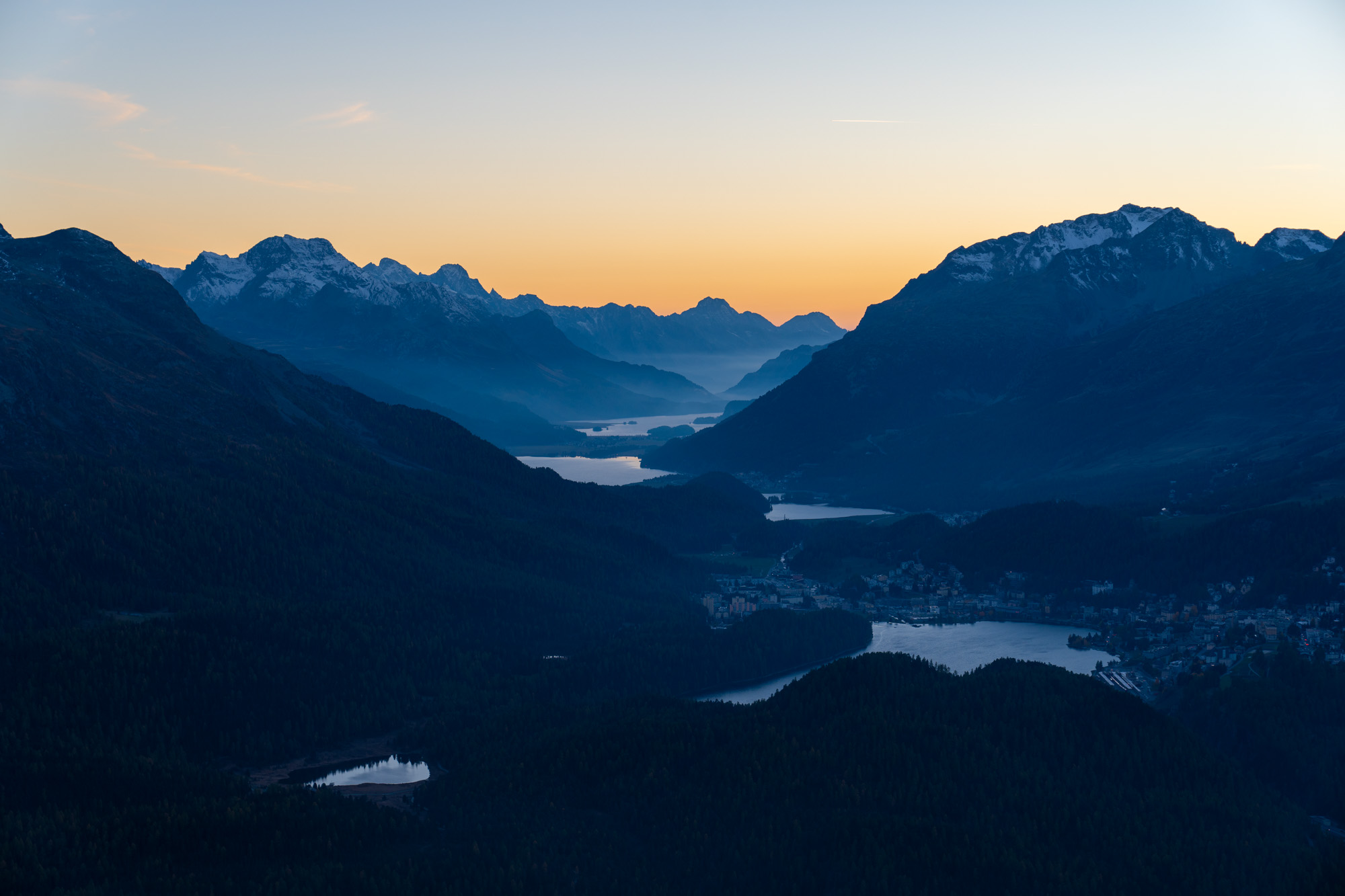 A wonderful location awaited us at 2,456 meters, ideally suited for smaller groups and incentives. Sustainability is a top priority here: in 2010 the establishment was named the first plus-energy hotel in the Alps. So it produces more energy than it consumes. The clocks run slower on the Muottas Muragl. Active and conscious doing nothing is celebrated on the mountain of pleasure in the Engadin. We were up there in time for the "blue hour" and were allowed to enjoy a sundowner on the terrace. Just wow!
Early Morning-Yoga with Ursina Badilatti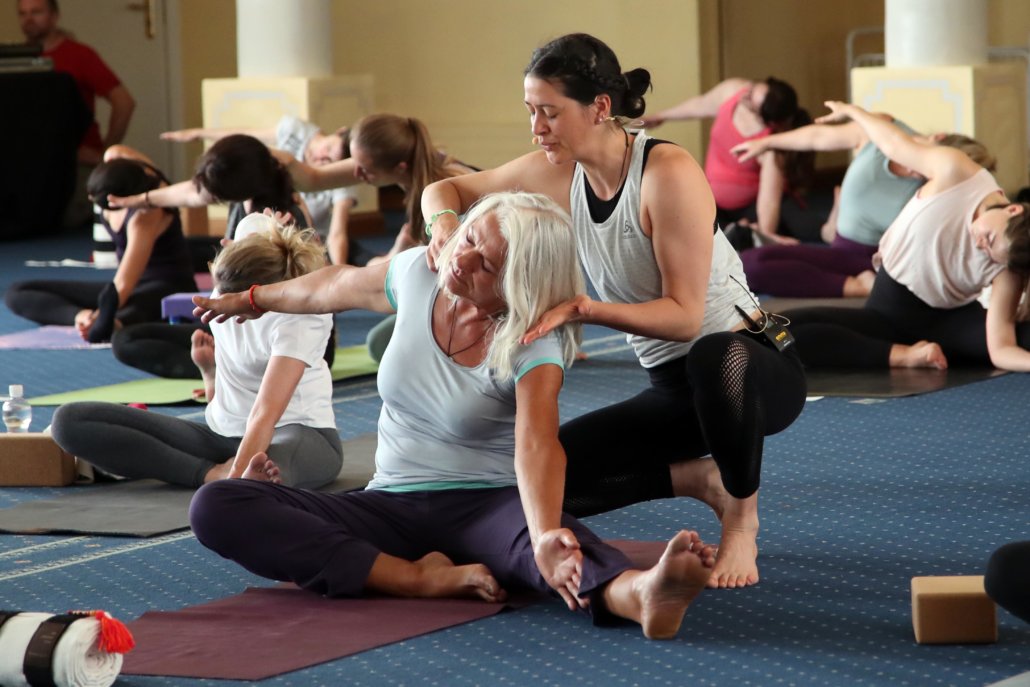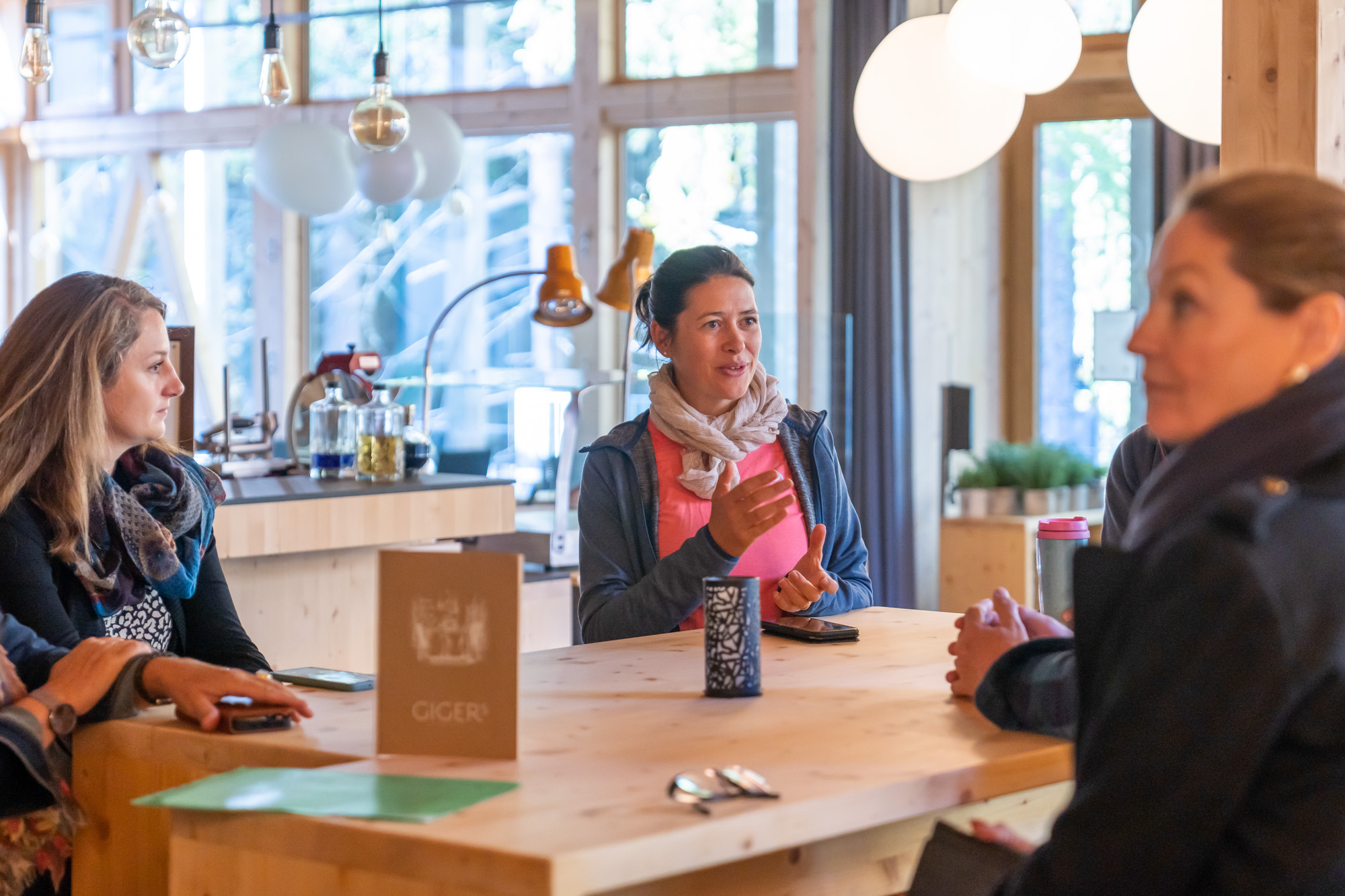 Our wonderful days went by far too quickly! On Friday, the last day, it was said "The early morning catches the worm". Today we got to know another impressive female personality from the region: Ursina Badilatti, who as a top athlete in the Swiss cross-country skiing national team was a multiple Olympic participant and still holds records in the well-known Engadin women's run. Ursina then shared with us her inspiring personal story – how she went to Berlin after her professional sports career to "find" herself again and to define herself beyond being an athlete. And how she came back to the Engadin and now with great passion as a yoga teacher, consultant and new mum in the spirit of "still your mind, move your body" combines her heart topics into a big whole.
Adieu, uf Wiederluega und auf Wiedersehen St. Moritz – we will definitely be back!
Contact for these – and other – MICE experiences:
Engadin St. Moritz Tourismus AG
Convention Services
mice@estm.ch
www.engadin.ch
Hotel Waldhaus Sils
Flurina Caviezel
Head of Sales & PR
sales@waldhaus-sils.ch
www.waldhaus-sils.ch
Business & Balance – das St. Moritz Experience der MICE Ladies